Defiant Catalan leader vows to carry on with independence bid despite court block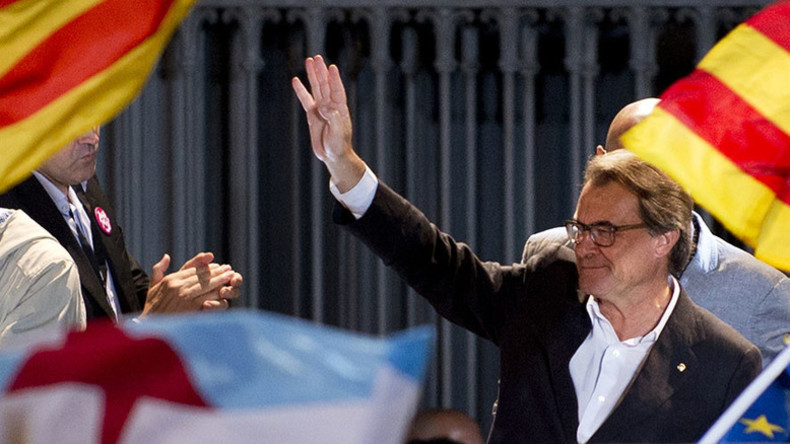 The Catalan parliament's resolution, calling for the secession process from Spain to begin, has been annulled legally, but not politically, regional President Artur Mas said after the Spanish Constitutional Court ruled the motion unconstitutional.
"Legally, it is clear that the Catalan parliament's resolution is now annulled," Mas told Cadena Ser radio. "But politically, it is not, because the will of the parliament cannot be annulled and the will of the parliament reflects the will and the ideas of a significant part of the Catalonian population."
On Wednesday, the Spanish Constitutional Court stated that the Catalan resolution "ignores and infringes" on principles laid out in the country's constitution. All 11 judges unanimously said that the legislation violates five articles of the Constitution and two articles from Catalonia's statute.
"The principle of democracy cannot be considered to be separate from the unconditional primacy of the constitution," the court said.
READ MORE: Catalonia's parliament backs declaration to split from Spain
In November, Catalonia's regional parliament backed a declaration to start a formal secession process from Spain. The region was planning to establish autonomous rule by 2017.
The vote was proposed by Catalan pro-independence parties, which won the local parliamentary election in September this year. They hope it will lead to the wealthier northeastern region seceding from Spain within 18 months.
The resolution states that the "democratic mandate based on the result of the elections held on September 27, is aimed at creation of independent and sovereign Catalan state…"
Reacting to the successful adoption of the declaration on Catalonia's secession, Spanish Prime Minister Mariano Rajoy said that "Catalonia is not going anywhere, nothing is going to break."
READ MORE: Resolution to start secession process submitted to Catalan parliament
Producing about 20 percent of Spain's GDP, Catalonia is the country's wealthiest region. Many Catalans believe that the rest of Spain is an economic "burden" on them.
You can share this story on social media: