Turkish court calls for experts to establish whether Erdogan looks like… Gollum?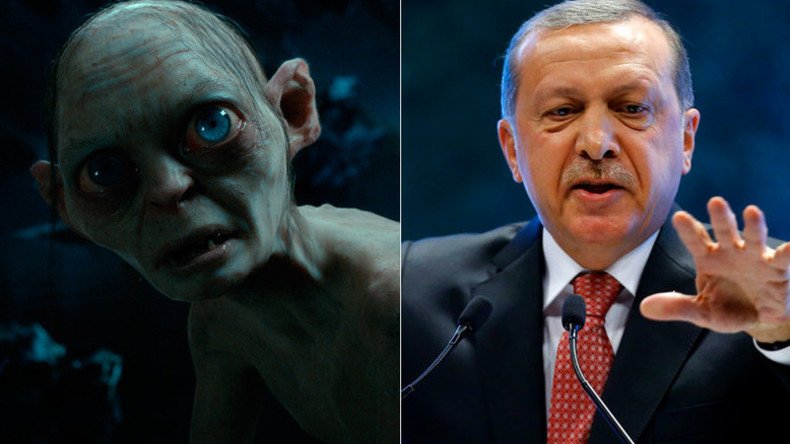 Turkish court has ordered experts to examine whether President Erdogan resembled the "Lord of the Rings" character of Gollum, after memes appeared comparing the two. Depending on their verdict, the author of the joke might face up to 2 years in jail.
The Aydin 3rd Criminal Court of First Instance has called on experts from several fields – two academics, two behavioral scientists or psychologists, and an expert on cinema and television productions – to look into the resemblance between Turkish President Recep Tayyip Erdogan and fictional movie character Gollum, the local Sozcu daily reported on Tuesday.
READ MORE: 'Wrong enemy:' Turkey under fire from press watchdog after detaining opposition reporters
The court is looking into the case to establish whether Dr. Bilgin Ciftci, a physician, insulted the president when he shared a meme comparing Erdogan's eating habits – as well as emotions such as surprise and amazement – with those of Gollum.

For publishing the meme, Ciftci was expelled from the Public Health Institution of Turkey (THSK) in October.
With the court unable to decide whether Erdogan truly looks like the character from the famous fantasy saga, expert help was called only at the fourth hearing.
The prosecutor and the chief judge could make a decision during the previous hearings because they were not familiar with the character, as they had not seen the movies, according to Ciftci's lawyer Hicran Danisman.

The judge postponed the hearing until February, 13, 2016. If the doctor is found guilty, he may be sentenced up to two years in prison for insulting Erdogan.
Ciftci has argued that Gollum is not a villain, so the meme does not insult the president – or anyone else.
You can share this story on social media: