'Wrong enemy:' Turkey under fire from press watchdog after detaining opposition reporters
The press freedom watchdog Reporters without Borders has called on Turkey to release journalists from the Cumhuriyet newspaper who were arrested on Thursday. The publication is also facing an investigation into its tax accounts.
Last week, a Turkish court ordered Can Dundar, the paper's chief editor and another senior editor, Erdem Gul, to be detained after they published footage seeming to show the state intelligence agency helping to send weapons to Syria.
The arrests brought a stinging response from Reporters without Borders Secretary-General Christophe Deloire, who said: "The Turkish authorities are targeting the wrong enemy."
Read more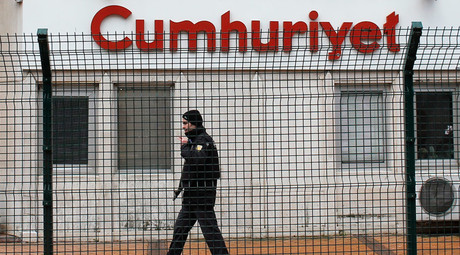 "The judicial system seems to prosecute journalists more often than the accomplices of Daesh [Islamic State]. Turkey is a great country, with democratic institutions and a very open civil society. We appeal to the government, as a matter of honor, to restore all the conditions of pluralism, starting with freedom for journalists," Deloire said in an article published on the organization's website.
The watchdog also slammed President Recep Tayyip Erdogan, who they say has been launching a "methodical crackdown on media in Turkey for years."
"Erdogan is persecuting journalists of all colors in an increasingly ferocious manner in the name of combatting terrorism and defending state security. The Erdogan regime's arrests, threats and intimidation are unworthy of a democracy," Reporters without Borders said in its statement.
On Monday, it also emerged that the Turkish authorities would be looking into Cumhuriyet's accounts again, even though they were recently audited.
"They informed [us] that they will once again inspect Cumhuriyet newspaper's 2010 accounts, two and a half years after fully inspecting them before," the newspaper's chief executive, Akin Atalay, wrote on Twitter on Monday.
The tweet was accompanied by a photocopy of an apparent corporation tax inspection report dating from mid-2013 regarding the company's 2010 accounts, Reuters reported, adding that officials would not comment on the issue.
In May, the outlet, which is considered to be the opponent of the government, published photos of weapons it said were then transferred to Syria by Turkey's intelligence agency.
Those who sent the convoy from Turkey knew that the weapons were "heading to end [up] in ISIS hands," a Cumhuriyet representative told RT's Ilya Petrenko. "There was that flag that belongs to ISIS... [it could be seen] very clearly [from the] Turkish border line," the journalist said.
Turkish officials made contradictory statements after the paper blew the whistle, first saying that the arms "were going to the Free Syrian Army," then denying the delivery altogether, and then saying the "aid was destined for the Turkmen."
"When you ask [the government] who [the Turkmen] are, they tell you that those are our guys," another Cumhuriyet journalist told RT. But when the reporter "personally talked" to the fighters supported by her government in Syria, she said she didn't see how they could be different from the terrorists, saying "they were all brothers."
"[There is] no difference between ISIS and the other guys. I think there is a problem with the labels here, because all the world is focused on ISIS, but there are other jihadist groups there, and they have links with Al-Nusra or ISIS, [while] Turkey says 'we are helping that groups – not ISIS,'" the Turkish journalist said.
Another employee from the newspaper told RT that Turkey is helping to fund ISIS by smuggling oil for the terrorist organization.
"ISIS is smuggling oil to Turkey and through Turkey... it's kind of common knowledge by now. But the big question is [whether] it's possible that they are doing it without the government's knowledge or some authority's knowledge," a journalist from the paper said.
Russian President Vladimir Putin claimed on the sidelines of the climate change summit in Paris on Monday that Turkey shot down a Russian Su-24 on November 24 to secure illegal oil deliveries from Syria to Turkey.
"At the moment we have received additional information confirming that that oil from the deposits controlled by Islamic State militants enters Turkish territory on an industrial scale," he said.
"We have every reason to believe that the decision to down our plane was guided by a desire to ensure security of this oil's delivery routes to ports where they are shipped in tankers," Putin said.
Speaking in Paris on Monday, President Erdogan said that he will leave office if there is proof of Turkey's cooperation with ISIS.
"I will say something very strong here. If such a thing is proven, the nobility of our nation would require that I would not stay in office," he was quoted as saying by the state-run Anatolia news agency.