Protesters attack Indian newspaper over anti-ISIS piggy bank cartoon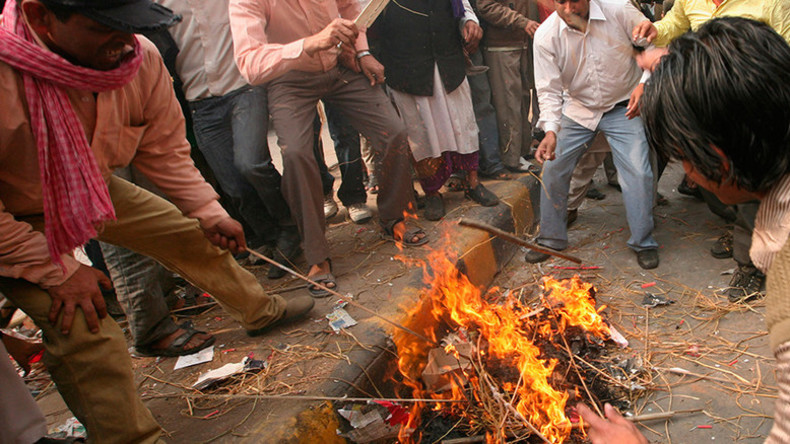 Violent protests took place in western Indian after a local newspaper published an anti-Islamic State cartoon featuring a piggy bank with the terrorist group's flag. Protesters said the cartoon was blasphemous, although social media users questioned these claims.
On Sunday, Lokmat, a Marathi language daily paper, published an article with the headline "ISIS cha paisa" (ISIS's money). The article featured an illustration showing a range of national currency symbols - representing the international sources of ISIS funding - all ending up in one piggy bank, which was painted with the IS flag. The name of the Prophet Mohammed was written on the bank in the same way it is marked on the Islamic State flag.
But local Muslim groups claimed that the illustration was blasphemous, as pig is 'haram' and is not permitted by Islamic law.

Several attacks have reportedly taken place at the newspaper's offices in Maharashtra state. Hundreds of protesters demanded the arrest of the editor and the artist who drew the illustration, website OpIndia reported.
Calls also emerged on social platforms to boycott the newspaper.

Others, meanwhile, have pointed out the supposed hypocrisy of those who considered the cartoon an insult to Islam.
Following violent protests, the newspaper published an apology expressing regret to any groups offended by the cartoon. It reportedly promised that "action has been taken" against the people responsible.
READ MORE: India seeks targeted economic sanctions to curb terror funding
Security at Lokmat offices across Maharashtra has been stepped up. "We are monitoring the situation and we request people to help us maintain peace," a top local police official said, according to the Deccan Herald.
You can share this story on social media: