US urges Turkey to close off its Syrian border to ISIS - media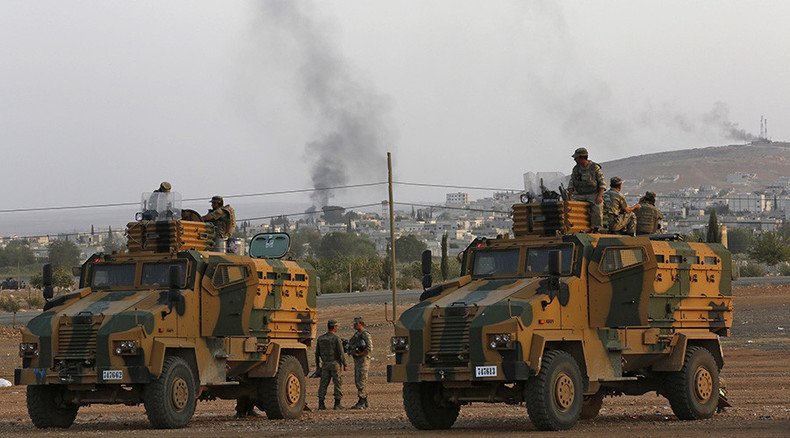 Washington is urging Ankara to seal off a 100-kilometer stretch of borderline with Syria currently used by Islamic State for transportation of fighters and supplies into the Syrian war zone. The Turkish Army would need an estimated 30,000 personnel to do this.
The Obama administration is urging Turkey to ensure Islamic State (IS, formerly ISIS/ISIL) in Syria receives no supplies through the Turkish border, the Wall Street Journal reports, citing sources in Washington. The request involves sealing off part of the frontier between the western Turkish town of Kilis and Jarabulus in eastern Syrian.
"The game has changed. Enough is enough! The border needs to be sealed," the WSJ cited a senior Obama administration official as saying in a message from the US government to Turkey. "This is an international threat, and it's all coming out of Syria and it's coming through Turkish territory."
The US has called particular attention to a small part of the border between Jarabulus and Cobanbey, which is being used extensively by IS to transfer munitions and other supplies from Turkey to Syria, and foreign fighters in both directions.
A Pentagon official told the WSJ that cordoning off a section of the border would require the deployment of approximately 10,000 additional troops, while a "broader humanitarian mission" would demand a 30,000-strong task force.
"There's no local, capable, motivated force that is prepared to clear this area at this time," the WSJ cited a senior US defense official as saying. "There are two sides to every border. If Turkey is motivated to seal their border, there is nothing that's stopping them from using their conventional forces to do so," the official said.
Turkish officials say some steps in this direction are already being taken, although they believe the number of troops necessary for the task is exaggerated, according to the WSJ.
Turkey has a 640,000-strong military, estimated to be the eighth largest in the world, and Ankara is said to want to control things on their own terms.
"Turkey is determined to clean Daesh (Arabic acronym for Islamic State) from the 98 kilometers of border between Kilis and Jarabulus," a senior Turkish government official said as cited by the WSJ. "There is no need to receive any kind of warning or advice from anyone, including our US partners."
"Just closing down the border would not be enough to solve our problems and would not address Turkey's demands," a Turkish official said.
In July, President Barack Obama and Turkish President Recep Tayyip Erdogan agreed in principle about a ground operation in Syria. It was understood that the forces on the ground would be Turkish-backed rebel groups consisting of Syrian Arabs and Turkmens, while the US would provide air support to the operation. Ankara also expected the US Air Force to maintain a no-fly zone over northern Syria, to protect rebels from the Syrian Air Force.
LISTEN MORE:
However, once Russia moved in and began a counter-terrorist operation of its own in Syria in late September, the US-Turkey plan to conduct a ground operation with rebel forces was scrapped.
After the attack of a Turkish F-16 fighter jet on a Russian Su-24 bomber on Tuesday, the Russian task force in Syria was enhanced with S-400 Triumph long-distance air defense complexes that cover most of Syria's territory.
Both the American and Turkish air forces halted their strikes on Syrian territory around the time Russia deployed S-400 systems to the Khmeimin airbase, from where it stages its own incursions against Islamic State.
READ MORE: No US airstrikes in Syria since Russia deployed S-400 systems
You can share this story on social media: