Mystery over who bombed Turkish convoy allegedly carrying weapons to militants in Syria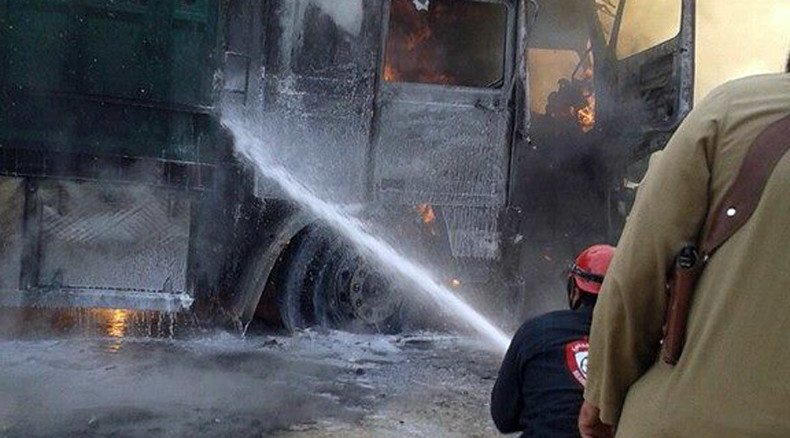 A Turkish convoy, which according to some reports was transporting weapons to terrorist organizations, has been hit by apparent airstrikes in northwestern Syria.
Footage released online by the Istanbul-based Humanitarian Relief Foundation (IHH) shows plumes of smoke from the burning trucks and people running about in panic. At least 20 trucks were engulfed in flames.
The mission, however, wasn't sponsored or organized by the IHH, the group said. No organization has as yet confirmed that the convoy belonged to them.
"Our teams helped to extinguish the fire... The trucks do not belong to us and there is no information on who bombed them," Mustafa Özbek, an official from İHH, told Reuters.
At least seven people were killed and 10 injured in the incident, according to the Turkish Anadolu agency. The trucks were reportedly heading to the town of Azaz in northwestern Syria.
READ MORE: No man left behind: Dramatic details emerge of downed Su-24 pilot rescue
Since the news emerged, media has been furiously speculating about who was behind the attack, what the trucks were transporting, what the convoy's humanitarian mission was, or maybe it was carrying a more sinister load.
One of the aid workers who survived the incident said the trucks had been deliberately targeted, Reuters reported.
The nature of the 'humanitarian aid' is also in question. Turkish media and the IHH say the trucks were transporting humanitarian aid to refugees in Azaz.
However, the Turkish Cumhuriyet newspaper cited sources close to the Syrian government saying the convoy was delivering weapons to terrorist organizations.
The Hawar news agency reported that Turkey repeatedly sent convoys with arms to the Al-Nusra Front and other terrorist organizations under the guise of humanitarian aid.
Reports on Twitter went further – they identified the arms as allegedly "Docka machine guns" and "small arms with ammunitions."
In the wake of the recent downing of a Russian Air Force bomber over Syria by Turkish fighter jets, some reports suggested the Russians were "avenging" the pilot's death. Many media outlets thought it was the work of Vladimir Putin.
Anadolu cited 'Syrian opposition sources,' who claimed that Russian jets attacked the convoy.
Other sources suggested the airstrikes were carried out by Syrians, without specifying whether it was members of the Syrian Army loyal to President Bashar Assad, or one of the various Syrian rebel groups.
Neither Turkish, nor Russian authorities have yet commented on the incident. However, before the Azaz incident Tayyip Erdogan commented on an event that took place in 2013, when a Turkish security service convoy was stopped on the way to the Bayırbucak region in northwestern Syria. The Turkish president said: "If there were any weapons, then what? And if there weren't, what would change?"
You can share this story on social media: