German air force to support France in fight against 'murderous gang' in Syria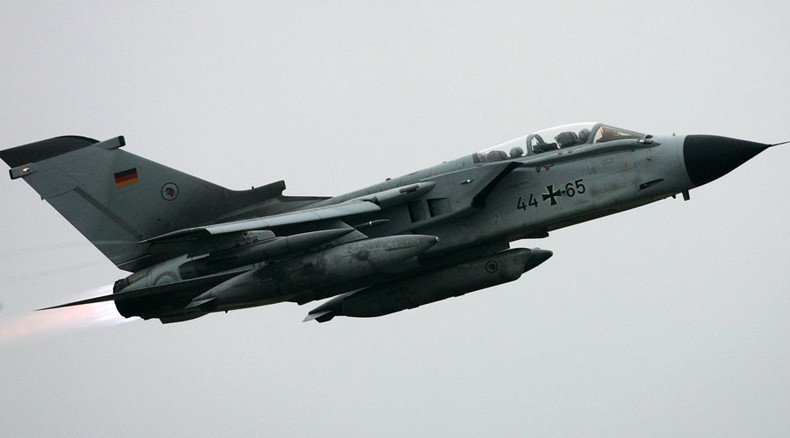 Germany has agreed to lend military assistance to France and support its expanded aerial campaign against the "murderous gang" after the French President asked Berlin to step up efforts against the Islamic State terrorist group in the wake of the mid-November Paris attacks.
Germany's participation in the anti-ISIS campaign will include sending between four and six Tornado reconnaissance planes equipped with special infrared cameras to detect enemy positions, as well as a frigate to protect France's Charles de Gaulle aircraft carrier stationed in the Mediterranean. Germany will also provide aerial refueling planes for French jets, Henning Otte, defense spokesman for German Chancellor Angela Merkel's Christian Democratic Union party told journalists.
"We won't just strengthen the training mission [for Kurdish Peshmerga fighters] in northern Iraq, but also push forward our engagement in the battle against Isis terror in Syria with reconnaissance Tornados," Otte said as quoted by the German branch of The Local.
"Germany will be a more active contributor [to the anti-ISIS campaign] than it has been until now," he added.
READ MORE: 760 German citizens have joined ISIS, 200 returned home – Interior Minister
Germany also plans to share its satellite intelligence data on Islamic State (IS, formerly ISIS/ISIL) positions with France. The announcement comes as the French president visits Moscow. During the visit he agreed with the Russian leader that the two countries would unite their efforts against the "common enemy" and will share data on terrorist positions in Syria.
The German mission in Syria however is expected to focus primarily on reconnaissance and will not involve participation in direct air strikes against Islamic State, German media reported citing the country's officials.
The decision to support France in its battle against IS was made during a Cabinet meeting on Thursday.
"The government today decided on difficult, but important and necessary steps," German Defense Minister Ursula von der Leyen told journalists after the meeting. "We all joined together in the awareness that we're firmly at France's side," she said as quoted by Bloomberg.
"We know that this inhumane rage can hit us or other societies at any time too," von der Leyen said referring to IS and explaining the reasons for the government's decision, AFP reported.
'Germany not at war, but battle against murderous gang'
The move follows a promise which Angela Merkel's made during a visit to Paris on Wednesday in response to French President Francois Hollande's plea for Germany to do more in the fight against IS terrorists in the view of the Paris attacks which claimed the lives of 130 people.
"If the French president asks me to think about what we can do beyond that, then it's our task to consider it – and we will react very quickly," Merkel said at that time. "Islamic State won't be persuaded by words; Islamic State must be fought with military means."
"Terrorism is our common enemy," she added stressing that "we are stronger than any terrorism. Nevertheless, terrorism must be fought with all possible force."
The proposed measures, which involve the deployment of German armed forces abroad, will be further discussed by the cabinet with the government seeking to prepare a draft of the mandate and put it before parliament by Tuesday. The Bundestag is expected to vote on the document by the end of the year, Reuters reported, citing German officials.
However, some politicians do not share government's enthusiasm concerning this decision. The leader of the opposition Left Party, Sarah Wagenknecht, denounced that move by saying that it would provoke terrorists to carry out terrorist attacks in Germany.
"If you send German Tornadoes to Syria, you only create more terrorists and increase the danger of an attack in Germany," she said as quoted by Reuters.
"There are risks. It is a dangerous operation, no doubt. But there are also defense mechanisms set up by the coalition, which has been conducting attacks for a year and we know that not a single aircraft has been downed," Ursula von der Leyen responded to the Wagenknecht's statements adding that Germany was not at war as it was going to fight not a state but a "murderous gang."
Germany has already promised to send up to 650 soldiers to Mali to aid France in its peace-keeping operation there as well as promising to send additional specialists to northern Iraq, who will join about 100 army trainers already on the ground. Germans there teach Kurdish Peshmerga fighters to use German weapons.
You can share this story on social media: