'Well-staged shot in back': Intl community slams Turkey's attack on Russian jet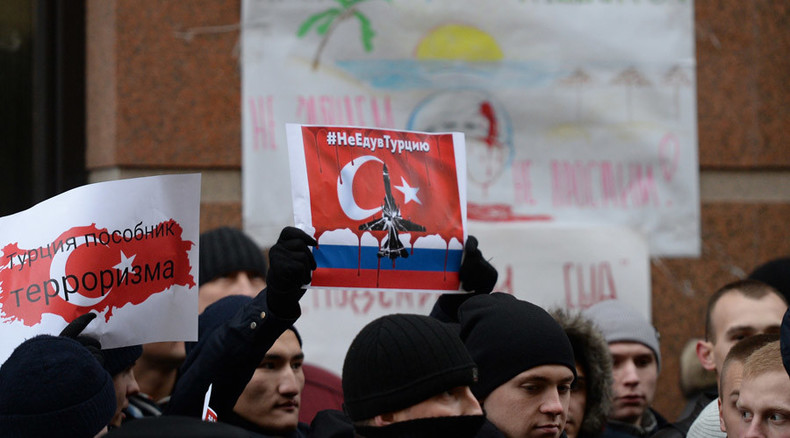 "Unacceptable", "A well-staged shot in the back", "Ankara entered war on the side of ISIS" – just some reactions from the international community to the Turkish attack on a Russian plane which was battling Islamic State extremists in Syria.
'Turkish attack may only worsen atmosphere in Syria' – Czech president
Ankara's downing of the Russian jet was criticized by Czech President Miloš Zeman, who said that it is "unfortunately, a very negative signal."
"Sometimes one may suspect that Turkey has informal contacts with Islamic State [IS, formerly ISIS/ISIL]. Considering that the Russian Air Force is fighting IS, the attack appears to be a too radical measure, that will only worsen the atmosphere in the region," he said, as cited by Czech press.
'Turkey entered war on the side of ISIS' – Italian politician
"Turkey has officially entered the war on the side of ISIL by downing at the order of [President Recep Tayyip] Erdogan a Russian aircraft which has participated in operations against Islamic terrorists in Syria," Roberto Calderoli, the leading member of the Northern League (Lega Nord) Party wrote on his Facebook page.
According to the politician, Ankara is merely a "'Trojan Horse' with which assistance Islamic fundamentalism would like to take a clear shot at the West."
"Why is Turkey still in NATO after what happened? What else can be expected of the UN apart from taking a strong stand on ISIL and its allies?" Calderoli wondered.
Calderoli also slammed Italian authorities on their position towards Russia.
"The government [of Matteo Renzi] is on the wrong side with [German Chancellor Angela] Merkel, instead of taking the side of Putin in this war to defend our values, our freedom and our traditions," he wrote.
'A well-staged shot in the back' – French MEP
"The Turkish government is playing really foul games," French MEP Jean-Luc Melenchon, leader of the Left Party, wrote on his Facebook page.
It was evident that Russian SU-24M didn't "pose any threat" to Turkey, as it was helping to battle extremists from IS, he argued.
"What was the Russian plane doing? It was delivering airstrikes against Islamic State. Did it pose any threat to Turkey? No. It means that it was another Turkish provocation in order to break the setting up of [anti-ISIS] coalition. It is a well-staged shot in the back," he concluded.
'Turkey aggressively violated Syria's sovereignty' – Syrian FM
The downing of the Russian warplane by Turkey, which aggressively violated Syria's sovereignty, is proof to the world of Turkish support for terrorism, Syrian Foreign Minister Walid Muallem said.
"This incident has shown the world that Erdogan and his government are helping terrorists in Syria."
"The effort to destroy the forces of Islamic State and other terrorist groups offended Turkey. That is why they aggressively violated Syria's sovereignty and attacked the Su-24 in its airspace," he added.
Shooting down of Russian fighter is 'unacceptable' - Cyprus
The attack by the Turkish Air Force on a Russian warplane that was battling terrorism is unacceptable, stated Cyprus President Nicos Anastasiades.
"While efforts for coordinated action amongst the international community to combat terrorism are ongoing, yesterday's episode is undermining all efforts for powers such as the US, Russia and the EU to work together to achieve this objective," he said.
Downing of Russian plane a blow to anti-terrorist efforts – Armenia
The whole international community is closely watching the situation with the Russian military plane, said Armenia's Defense Minister Seyran Ohanyan.
"Now, when the efforts of the international community are directed towards fight against terrorism, it [shooting down the jet] was a blow to these efforts," he added.
LISTEN MORE:
You can share this story on social media: