Chemical, bacterial attacks 'among risks to consider' - French defense minister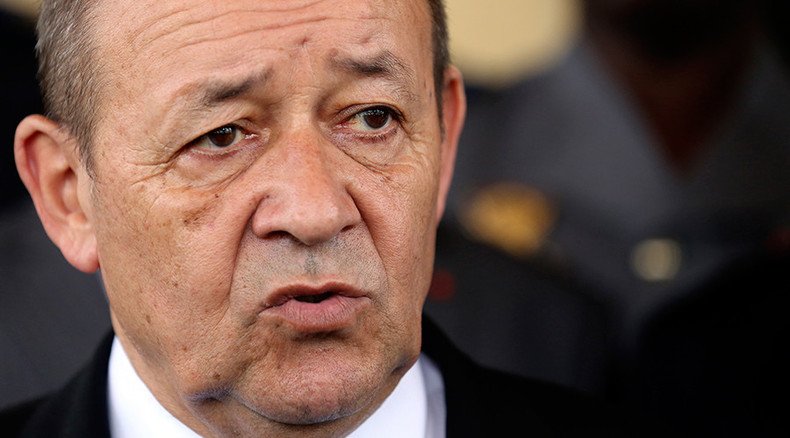 Concerns have grown dramatically about the possibility of new lethal attacks by Islamic State against France. Defense Minister Jean-Yves Le Drian has warned that his country is currently facing the risk of chemical and bacterial attacks.
This kind of attack is "among the risks that we must consider," he said on Sunday in an interview on Europe-1.
But "it is very complicated to use chemical weapons from one territory to another," Jean-Yves Le Drian said. "Every precaution has been taken to prevent this kind of risk," the minister added.
On Thursday, French Prime Minister Manuel Valls also highlighted the need for his country to be prepared for chemical and biological attacks, warning that the "macabre imagination" of Islamic State "is limitless."
US and European officials have repeatedly claimed that Islamic State is incapable of producing chemical weapons due to a lack of resources and technology, insisting that it has only managed to produce mustard gas so far, of low quality and in small quantities.
"It's not enough to have mustard gas ... one has to be able to team that up with a system of dissemination and it is here that things and techniques start getting very complicated," Olivier Lepick, an expert on chemical, biological and nuclear weapons, told AFP on Thursday.

He said that ISIS and similar groups had been interested in such weapons for quite a while, but "if it was so simple to stage an attack they would have done it a long time ago - and here we are speaking of a period of 20 years."
"These arms are much more difficult to use than Kalashnikovs or explosives belts," Lepick said.
Earlier this week, US security officials said that Islamic State has a group devoted to creating chemical weapons, AP reported, citing Iraqi and US intelligence sources.
The group uses scientists from Iraq and Syria, as well as other countries in the region. Although ISIS has already used mustard gas on the battlefield, US intelligence agencies are skeptical about the terrorists' capabilities to produce sophisticated chemical weapons suited for a potential terrorist attack. Iraqi officials warned, however, that control over vast territories in Iraq and Syria gives the militants a range opportunities for dangerous experiments, leaving Iraq's forces largely unaware of Islamic State's actions.
"They [Islamic State] now have complete freedom to select locations for their labs and production sites and have a wide range of experts, both civilians and military, to aid them," a senior Iraqi intelligence official told AP.
The militants have engaged experts from various countries for their chemical weapons project, including from Chechnya and Southeast Asia, along with members of Saddam Hussein's now-dissolved Military Industrialization Authority, the head of the Iraqi parliament's security and defense committee, Hakim al-Zamili, told AP.
"Daesh [ISIS] is working very seriously to produce chemical weapons, particularly nerve gas," he said. "That would threaten not just Iraq but the whole world."
Fearing that the extremists could use chemical weapons, Iraqi forces have already started distributing gas masks and protective suits to troops stationed west and north of Baghdad.
Earlier this week, French and Russian air raids killed 33 Islamic State fighters in 72 hours in their Syrian stronghold Raqqa, punishing the terrorist group for attacks in Paris that killed 130 people, and for the downing of the Russian passenger jet over Sinai, where 224 people perished.
After the October 31 jet crash was discovered to be a suicide bomb attack by Islamic State, Russian President Vladimir Putin vowed retributive strikes against the terror group, and ordered the ongoing airstrike campaign to be boosted. Since then, the country's air force has been conducting about 140 sorties daily, and strategic bombers and ship-based cruise missiles were added to the arsenal thrown at ISIS.
On Friday, Russian Air Force servicemen, heading for sorties against Islamic State in Syria, sent emotional messages to their targets - by scrawling battle cries on their bombs. 'For Paris' (За Париж) and 'For our people' (За наших) were the words seen on the sides of the FAB-250-M62 high explosive bombs hanging from the ports of the Russian Su-34 attack jet before it started along the runway for takeoff.
You can share this story on social media: