6 Britons arrested near Brussels in ambulances scare as city on red alert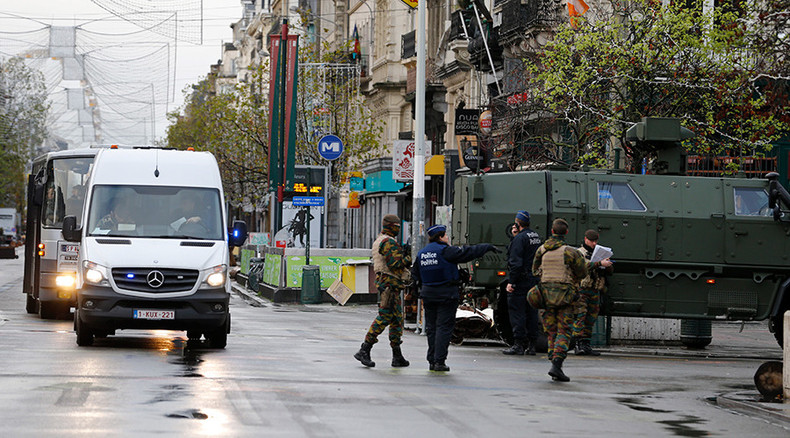 Belgian police have arrested six British men driving three UK ambulances not far from Brussels, as the Belgian capital was on lockdown, with security agencies fearing a "serious and imminent" threat of a terrorist attack.
The medical vehicles, with British license plates, were spotted on Saturday at a service station in Bierges, along the E411 highway, 30 minutes southeast of Brussels.
Law enforcement officers arrived on the scene quickly at around 14:00 local time (13:00 GMT), supported by six armored trucks. A witness spoke to RTL Belgium, saying: "There were a number of police vehicles and the police officers had their weapons drawn."
Six British nationals of Pakistani origin were arrested at the scene and were taken for questioning and had their fingerprints taken. No weapons were found, but police said they came across "clothes, food and money."
"Those who were arrested appear to be part of a humanitarian convoy to Turkey, which would therefore mean they are not a terrorist threat," a commissioner from the Wavre Police Force stated, as cited by RTL Belgium.
Belgian police said that the six British nationals were arrested near an Esso gas station, which was regularly frequented by Salah Abdeslam. A manhunt is under way to try and capture the 26-year-old who is wanted in connection with the November 13 Paris terrorist attacks.
The fact that suspicious-looking ambulances were seen in the vicinity of Brussels provoked a scare after reports saying terrorists in Germany had sought to launch an attack in Hanover using a medical vehicle.
On November 19, the German authorities were forced to call off a friendly football match between Germany and the Netherlands after learning of a detailed document that showed how a group of several terrorists planned to set off several bombs at the stadium in Hanover, while the match was being played.
The attackers planned to smuggle the bomb into the stadium using an ambulance.
The arrests by Belgian police came as the capital Brussels was in a state of lockdown on Saturday after the security agencies said city faced a "serious and imminent" threat of a terrorist attack. The government issued an official warning to the public to avoid crowded areas.
Brussels is still remained on high alert Sunday, with police searching for two terrorists involved in the Paris terror attacks.
The mayor of the Brussels municipality of Schaerbeek, Bernard Clerfayt, told Belgium's RTBF radio that the two terror suspects are in Brussels and "could commit dangerous acts," it was reported Sunday. Belgian police have been trying to track down Abdeslam for over a week now.
Salah Abdeslam returned to Brussels from Paris following the November 13 assaults. He managed to arrive back in the Belgian capital having evaded police three times. His elder brother Brahim blew himself up at a cafe in Paris.
Salah Abdeslam hails from the Brussels district of Molenbeek, which has been in the headlines over the past week as it was from this district in the Belgian capital where some of the terrorists who carried out the Paris attacks were living.
Belgian Interior Minister Jan Jambon says it is time for the government to take the necessary steps to tackle the problems of jihadism and radicalization in the area, while adding that they will check "every address in Molenbeek."
"It is unacceptable that we do not know who is living in this area," he said in an interview with the Het Nieuwsblad newspaper. "There are two people registered in some apartments, but actually 10 living there."
Jambon is calling for door-to-door searches to take place.
"The local authorities must go from door-to-door, ring the bell and ask who actually lives there. An address should be checked by a police officer when a person goes to live at a new abode," the interior minister added, speaking to Het Nieuwsblad.
You can share this story on social media: