'You're a virus, we're the cure': Anonymous takes down 20,000 ISIS Twitter accounts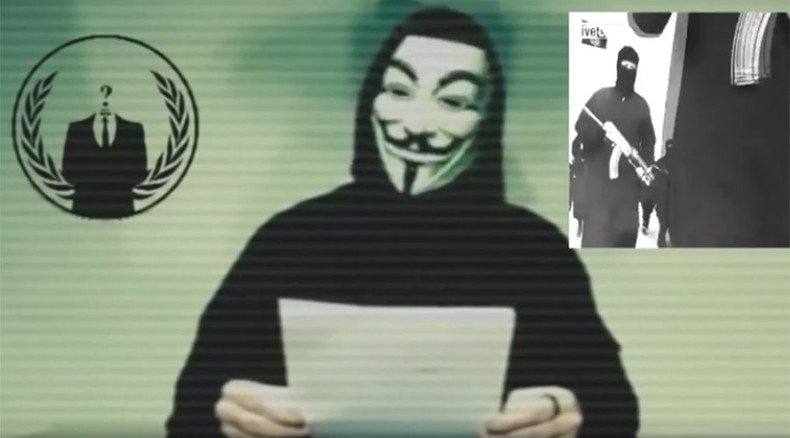 The international hacking group Anonymous claims to have taken down 20,000 Islamic State-linked Twitter accounts as it wages "total war" against the terrorist organization. Their #OpParis operation is in revenge for the deadly attacks on November 13.
While Russia, French and US bombers are targeting Islamic State (formerly ISIS/ISIL) positions from the sky, Anonymous are carrying out their very own devastating campaign against the terrorist organization. They are using computer code rather than high-powered weapons and say the hacktivist group has built tools that "might be better than any world government's tools to combat ISIS online."
In a YouTube post on Wednesday, the group said: "More than 20,000 Twitter accounts belonging to ISIS were taken down by Anonymous." It added that they had provided a list of all the accounts that have been taken down. On Tuesday, the group had removed 5,500 ISIS accounts from the internet.
The video starts with a spokesman, all dressed in black and wearing Anonymous' signature Guy Fawkes mask, delivering a statement.
"Hello, citizens of the world. We are Anonymous. It is time to realize that social media is a solid platform for ISIS's communication as well as neutering their ideas of terror amongst youth. But at the same time, social media has proved it is an advanced weapon. We must all work together and use social media to eliminate the accounts used by terrorists," the spokesman said.
The jihadist ISIS organization has used social media as an effective way to recruit new fighters, especially from the West.
"ISIS, we will hunt you and take down your sites, accounts, emails and expose you. From now on, there is no safe place for you online. You will be treated like a virus and we are the cure," the spokesman said.
On Tuesday, Alex Poucher, an Anonymous representative, spoke to RT about how the hacking collective is engaging in "total war" against IS.
"Our capability to take down ISIS is a direct result of our collective's sophisticated hackers, data miners, and spies that we have all around the world. We have people very, very close to ISIS on the ground, which makes gathering intel about ISIS and related activities very easy for us," he said.
Poucher added that the collective has built tools that "might be better than any world government's tools to combat ISIS online."
"They picked a fight with Anonymous when they attacked Paris, and now they should expect us," he said, adding that the collective "will not sit by and watch these terror attacks unfold around the world."
You can share this story on social media: