'Blatant injustice:' Russian two-time Olympic champion criticizes IAAF ban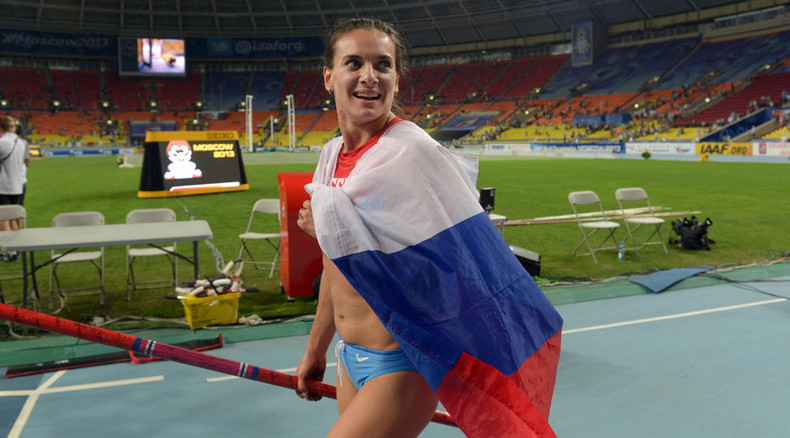 Yelena Isinbayeva, Russia's two-time Olympic gold medalist, denounced the decision of the International Athletic Associations Federation (IAAF) to ban all Russian athletes from international competitions as "utterly unfair" towards clean sportspeople.
Isinbayeva, who has also won multiple world champions in pole vaulting, said she was "shocked" by the IAAF's decision to ban the entire Russian athletics team from all international competitions, possibly including the world championship in Portland, Oregon in the US in 2017, and the 2016 Olympic games in Rio de Janeiro.
She described the decision as "unjustified and unfair towards the athletes that were not involved in the scandal and had never took any doping," calling it "blatant injustice" in an interview with RT after a press-conference on Monday.
The athlete stressed that she had personally never violated the World Anti-doping Agency rules and always followed them "strictly and with full responsibility" as it was "a matter of principle" for her to stay clean. She also called on IAAF Council members to employ a selective approach and impose sanctions against only those who have cheated, rather than punish the whole team.
"The whole team, the whole federation should not be disqualified for mistakes of some dozen people," Isinbayeva told RT.
When commenting on the prospects for competing at the 2016 Games in Rio de Janeiro, Isinbayeva expressed hope that the Russian Olympic Committee, as well as the Russian Sports Ministry, would do their best to make sure the IAAF ban is lifted so that Russian athletes could compete "under the flag of their own country with their country's national anthem playing in their honor."
Meanwhile, at a separate press conference, the head of the Russian Olympic Committee, Aleksandr Zhukov, also stressed that most Russian athletes are clean and "their rights should be protected," adding that this view is shared by both the International Olympic Committee (IOC) and the European Olympic Committee.
Zhukov said that he had met with IOC president Thomas Bach, and they had signed a memorandum listing the measures that will need be taken in order for Russia's athletics team to take part in the 2016 Olympics in Rio de Janeiro.
According to Zhukov, these measures include bans on all the people involved in the recent doping scandal, including athletes, coaches and other specialists, as well as bringing both the Moscow laboratory and the Russian Anti-Doping Agency into conformity with WADA rules and reforming the All-Russian Athletics Federation (ARAF).
Zhukov stressed that, in the near future, the executive committee of the Russian Olympic Committee would form an interim management committee for the ARAF that would exclude all members of its current governing body.
Afterwards, the Russian Olympic Committee "would recommend the ARAF to accept the interim management committee as a ruling body of the organization for the period until January 16, 2017," when the elections of the new ARAF governing body would take place.At the end of the press-conference, Zhukov once again stressed that clean athletes "should have a right to participate in all international competitions" and "their rights should not be restricted."