Russian Sports Minister vows to clean-up troubled athletics body in doping fight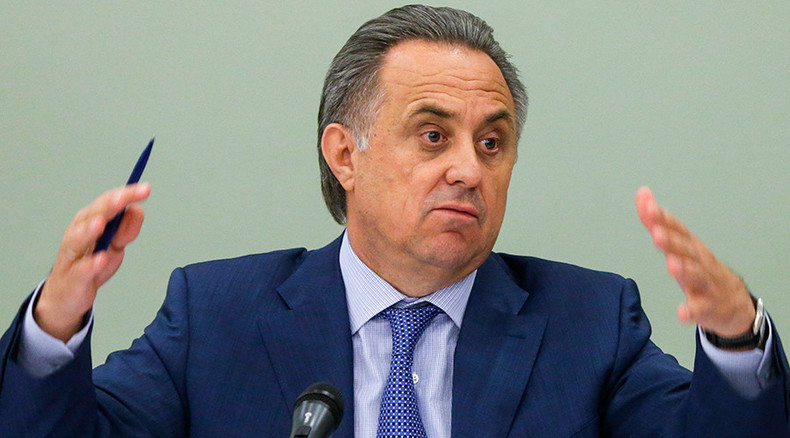 The Russian Sports Minister Vitaly Mutko says he is determined to fight the use of doping by the country's athletes. He also says he is ready to clean up the troubled athletics federation if necessary.
"We don't need some deceitful athlete or coach to fool everyone. If needed, we will clean up this federation completely. We are determined about this," Mutko said on Sunday at a briefing with journalists, following an extraordinary meeting of the board of the Russian Athletics Federation (ARAF).
READ MORE: Russian Olympic committee vows to reform athletics for Rio 2016 Olympics
The Russian Sports Minister also said that Russia has asked International Association of Athletics Federations (IAAF) to let Russian track and field athletes take part in the upcoming competitions under the flag of the Russian Olympic Committee (ROC), instead of the Russian flag to circumvent the ban imposed by the world athletics body.
"I hope the IAAF will consider our application over the next three months, while the membership of the Russian Athletics Federation is suspended, our athletes could compete in international competitions under the flag of the ROC, our national Olympic Committee," he said.
However, when asked about the Russian proposal, IOC President Thomas Bach said: "This is total speculation, I cannot see this situation occurring at this moment," Reuters reported.
The Russian minister also expressed his surprise at the fact the international sports community has failed to speak out and defend Russian athletes that didn't cheat, but may be suspended from participating in all international competitions including the 2016 Olympic Games in Rio de Janeiro.
As soon as the World Anti-Doping Agency's (WADA) published its report concerning the activities of the Russian Athletics Federation, the organization drew up its own report regarding the situation. However, the ARAF General Secretary Mikhail Butov said it was not taken into consideration by the international team of experts.
READ MORE: Suspension of Russian athletic teams over doping 'too harsh' – national federation
"The IAAF overreacted in this situation," Butov said. "The decision won't do any good to international track and field athletics."
"Fighting doping in sport is our common cause which requires a united effort," Butov added. "Getting our athletes back on the track is a top priority now."
LISTEN MORE: