Praying for Paris: Mourning after terrorist attacks goes global (PHOTOS, VIDEO)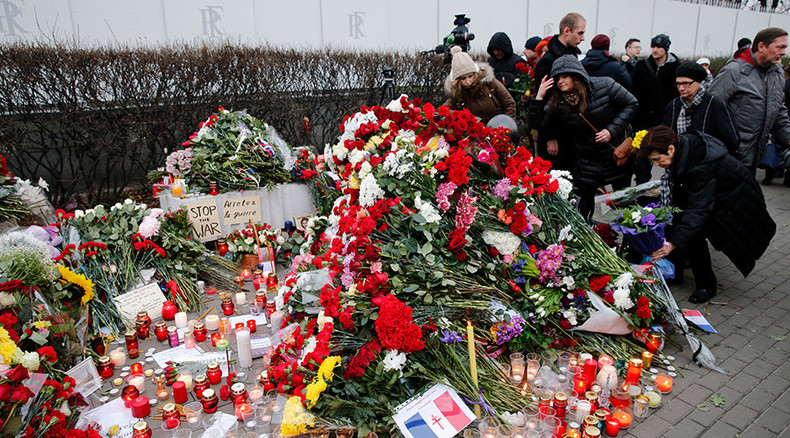 Thousands of people around the world, shocked and outraged by the ruthless terrorist acts in Paris, have gathered in front of French embassies to lay flowers, light candles and pay their respects to the victims of the deadly attacks.
People in Moscow stood in a long queue to honor the memory of 129 people killed in Paris on Friday night. They laid flowers and left notes that said: "Russia mourns with you."
Mourners in Ukraine paid their respects to the victims of the Paris tragedy by laying flowers in front of the French embassy in Kiev.
A large number of people turned up at the French Embassy and Consulate in London. They remembered those who lost their lives in Paris by leaving flowers strapped with white ribbons inscribed with the words "Pray for Paris."
The French embassy in Bulgaria also saw a lot of mourners on Saturday.
US citizens also came to the French embassy in Washington to express their condolences.
The people of Poland were quick to pay their respects as well.
Berliners gathered at the Parisian square next to the French embassy and the Brandenburg Gate, which was later illuminated in the colours of the French national flag.
There was also an outpouring of support in Italy as citizens descended on the French embassy in Rome.
Lots of people showed up at the French embassy in Copenhagen, covering the city's square with flowers.
In Oslo people placed roses in the green fence that surrounds the French embassy and lit candles.
People in Tel-Aviv took to the streets holding signs saying: "Tel-Aviv stands with Paris."
"The whole world shares grief over the death of innocent people," said a placard at the French embassy in Iran.