Islamic State makes new threats to Russia & Europe, promising caliphate, bloodshed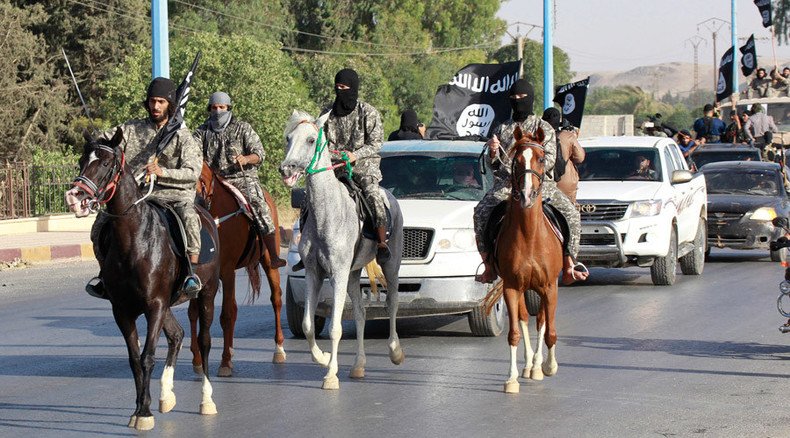 Islamic State has released a five-minute video threatening Russia with attacks in the near future and vowing to bring the Kremlin down. The video is awash with graphic images and clips from previously released execution footage.
The clip was released by Islamic State's (IS, formerly ISIS/ISIL) foreign language media division, the Al-Hayat Media Center. According to the SITE monitoring group, threats of attacks on Russia are being made in revenge for Russia's anti-IS ops in Syria. The jihadists claim they will bring down the Kremlin, create a caliphate in different parts of Russia such as Crimea, Caucasus, the Urals and the republic of Tatarstan, also adding that all non-Muslims will have to pay a special tax.
Kremlin spokesman Dmitry Peskov said that Russia's security agencies will look into the video, which also promises attacks on Europe.
"I do not know the authenticity of this video or the authenticity of these sources, but in any case no doubt this will be material for review by our special [security] services," Peskov told journalists on Thursday.
Islamic State has called for attacks on Russia since it began airstrikes against them in Syria on September 30th. The Syrian Army has made rapid advances against jihadist groups over the past six weeks following the start of Moscow's air campaign. Russia has carried out over 1,600 sorties since establishing an airbase in northern Syria in September at the request of Syrian President Bashar Assad, who has been battling Islamic jihadists since 2011.
READ MORE: ISIS releases video claiming revenge 'downing' of Russian passenger jet over Sinai
Another IS video, released last week, showed a Russian-speaking jihadist praising the Sinai terrorists, who claimed responsibility for downing a Russian passenger jet, which crashed in Egypt's Sinai Peninsula on October 31, killing all 224 passengers and crew on board. The jihadist threatened more attacks.
Islamic State first attempted to take credit for bringing down the Airbus 321 shortly after the plane crashed en route from Sharm El-Sheikh to St. Petersburg.
An investigation is underway and experts are looking into all possible causes, including a terror attack.
You can share this story on social media: