ISIS releases video claiming revenge 'downing' of Russian passenger jet over Sinai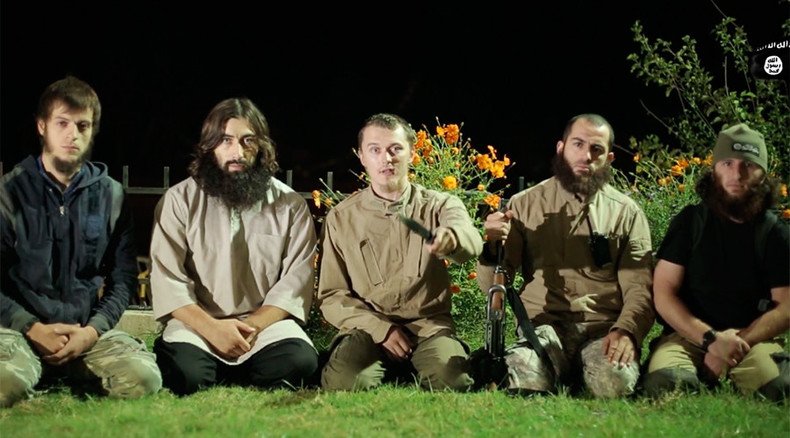 A new Islamic State video shows a Russian-speaking jihadist praising his "Sinai brothers" for "taking down" a Russian passenger jet and threatening more attacks, while both Russia and Egypt say the group doesn't possess the means to shoot down a plane.
Follow RT's LIVE UPDATES on Russian A321 jet crash over Sinai

In the newly-released video, five Islamic State (IS, formely ISIS/ISIL) jihadists are seen sitting outside as one of them praises militants in the Sinai Peninsula for allegedly bringing down the Russian A321 passenger jet with 224 people on board.
Surrounded by four fellow jihadists, a Slavic-looking man speaking both in Russian and Arabic, addresses President Vladimir Putin, warning the Russian leader that he would regret targeting ISIS in Syria.
With a knife in hand, he threatens to continue taking down planes, invading countries, and killing people in retaliation for Russia's military operation in Syria.
READ MORE: Flight 7K9268: What we do and don't know about Russia's deadliest-ever air crash
Islamic State first attempted to claim responsibility for bringing down the Airbus 321 shortly after the plane crashed en route from Egypt's Sharm-el-Sheikh to St. Petersburg on October 31.
However, the claim was quickly rejected by both Russian and Egyptian officials as "unlikely."
The US State Department echoed the refutation, saying that it "has no indication of terrorists taking down" the plane, either.
While officials have stressed no version can be ruled out entirely until the investigation is complete, there are reasonable grounds to believe that ISIS-affiliated militants fighting on the ground in Sinai are not behind the crash.
Both officials and experts are united in their opinion that the jihadists only possess man-portable air defense systems incapable of reaching the 9,450 meter (31,000 foot) altitude of the high-flying Airbus.
"As far as it is known, Islamic State and its affiliate groups don't have the capability to bring down aircraft flying at the height that this aircraft reportedly was, which is something around 10,000 meters," security analyst and former UK counter-terrorism officer Charles Shoebridge told RT.
At present, conflicting reports on the passenger jet's fate are rampant in the media, however.
On Tuesday, an Egyptian doctor who examined the passengers' bodies said that the nature of their injuries led him to suggest that "a powerful explosion took place aboard the plane before it hit the ground."
A bomb explosion aboard the plane had been mentioned earlier as one possible cause of the crash.
However, Russian and Egyptian experts reportedly failed to find any blast-related trauma during their preliminary examination of the bodies.
READ MORE: Crash victims' injuries show midair explosion likely caused A321 crash - investigator
"There were no signs of an explosion impact found during the preliminary examination," an unnamed source told TASS news agency.
So far, Egyptian investigators are inclined to favor mechanical damage or technical malfunction as the most likely cause.
Meanwhile, an unnamed Russian investigator told RIA Novosti that media reports citing sources close to the investigation are "negatively impacting" the progress of the probe, as preliminary conclusions are misinforming the public and complicating things for the investigating officials.
"We are talking about the dissemination of statements from informed sources in Cairo as well as experts, allegedly close to the investigation," a source, said to be from the technical side of the investigation, told the agency.
The situation is expected to become clearer after the data is recovered from the plane's flight recorders, but that process is expected to take up to four weeks.
LISTEN MORE:
You can share this story on social media: