Aussie immigration detention set on fire in riot over suspicious death of Iranian detainee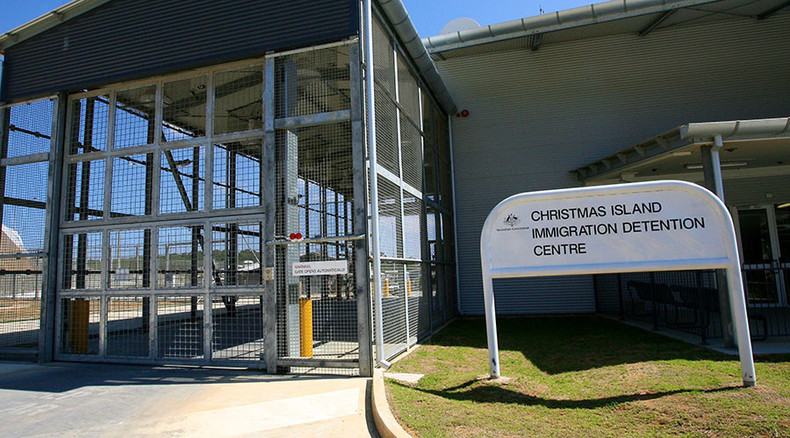 Crowds erupted in a riot at an Australian immigration detention center on Christmas Island after a detainee who escaped was found dead. Officials say there were no suspicious circumstances in the death.
The victim was Fazel Chegeni, an Iranian in his early 30s. He was found dead at the bottom of a cliff on the island, according to Australian officials. His death sparked the unrest overnight very early Monday. Conflicting versions of events are being offered by the government and other inmates, one of whom reported hearing cries for help.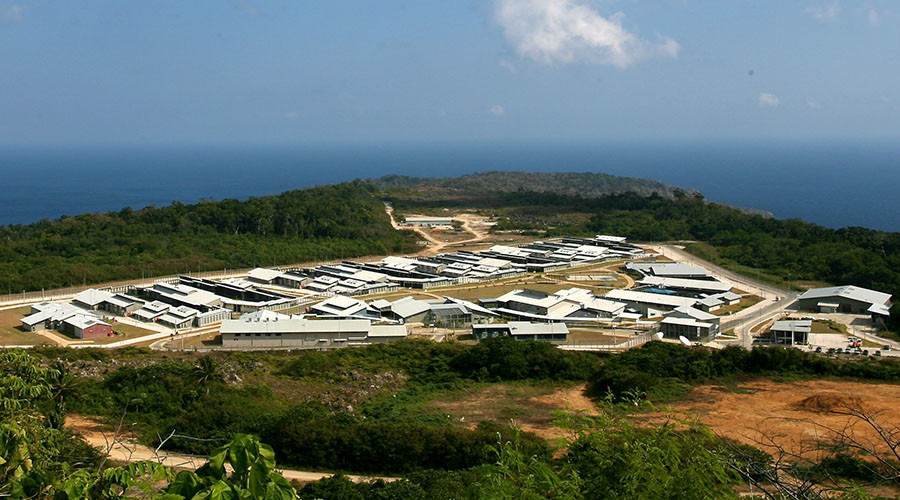 The chaos saw the detainees break fences and knock down walls. In some areas fires were started. Some areas, like the kitchen, are reported to have been destroyed and the premises made "unlivable."
READ MORE: Thousands march in 12 Australian cities to demand end to country's 'cruel asylum-seeker policies'
According to UK-born inmate Mick Tristram, speaking to the Guardian Australia, the scuffles were set off by six Iranians, who "started the trouble" by acting threateningly toward the guards. The latter were forced to retreat. Tristram added that the majority of the damage was done after detainees saw an inmate being dragged kicking and screaming out of another compound raided by the ERT (Emergency Response Teams).
Upon the alleged discovery of Chegeni's body, "the Iranians were pretty wound up about the death of one of their friends," Tristram told the paper.
This led to about 20-30 more detainees joining in the unrest, leading to the guards abandoning the compound and the inmates starting to cause chaos from within, without any security to stop them.
Many wore T-shirts over their faces as they inflicted damage to the premises. Some even threatened fellow inmates if they did not join in, according to Tristram. Several stole medication from the dispensary, and overdosed.
Shattered glass and fire sprinklers now reportedly litter the compound.
According to an inmate known only as George, the exact moment things got heated can be traced back to a particular moment.
"I think one of the officers wanted to challenge one of the Iranian detainees, who were disgruntled by the way the fellow detainee was treated prior to him escaping and dying and that's basically how it all started," he told the ABC.
According to Tristram, "there is one particular ERT guard there who has been bashing a lot of people here. I mean one of these Iranians, he broke his leg, broke his ribs [previously]. There is [sic] a lot of people here who have been beaten up by these ERTs."
Although the circumstances of the death that allegedly set it all off remain unclear at this point, Immigration Minister Peter Dutton told parliament they are "not suspicious."
READ MORE: Reports of disturbance in Darwin detention center, Australia, police deployed
Not everyone shares Dutton's conviction. Matej Cuperka, 25, a Slovakian inmate, told the ABC the death was indeed "very, very suspicious" and that "[the rioting inmates] believe Serco (the company which runs the ERT) officers did something to him… I clearly heard him in the morning screaming for help, and the next thing I see they be bringing him in a body bag, and after that the whole place went into lockdown."
RT got a hold of Fazel's friend, Hamid, who had spent three years at a Melbourne facility, one of which was with Fazel himself. A mutual friend of theirs told Hamid that there is strong suspicion Fazel's death was no incident. Like his fellow Iranians, Hamid has a message for the Australian government - "to stop putting asylum seekers into detention centers, and help us."
Now it's a question of what happens next. There is only so much you can do against the guards.
"What we're concerned about is [whether ERT] are going to come in heavy. I'm just going to drop to my knees, put my hands behind my head … that's all I'm going to do," Cuperka said.
Other inmates speculate that a military raid could take place, complete with lethal force.
"I think people are still quite angry but they're all sort of just in defense mode where they're just waiting for the emergency response team to do something about it," Tristram added.
"I have thought maybe they could send in somebody to do negotiations … that would probably be a nice outcome. I just don't think it will go like that.
"To be honest, I don't even know how they're going to lock us down – where would they put us? If they handcuffed us all again, they can't really hold us here anymore. It's like, destroyed, unlivable."
The chaos touches on the issue that is gaining increasing salience –that Australian detention facilities routinely abuse the rights of the detainees, which often results in physical injury and the denial of the most basic things. Living conditions are also described as sub-standard.
In Australia's bid to curtail the flow of illegal immigration, probably no center received greater infamy than Nauru, with allegations of waterboarding surfacing this summer.
READ MORE: 'Guards brag openly about waterboarding at Nauru' – Former immigration center guard
Another center at Manus Island has become the subject of controversy after an Iraqi man cut his own stomach open to prove that it was empty. He had gone on hunger strike in protest at not receiving medical treatment for his kidney and shoulder problems.
Some have even risked jail for exposing the horrors of being kept at an Australian detention facility. Rights advocates continue to be in disbelief, as Australia has now apparently authorized guards to beat asylum seekers into submission at the sign of any untoward attitude.
But as staff members at Nauru have been saying, the government has known about the grave abuses for several years now.
The cruel operations of immigrant detention centers have brought Australians out into the streets in protest. As many as 15,000 turned out across 12 cities in March.