'Guards brag openly about waterboarding at Nauru' – Former immigration center guard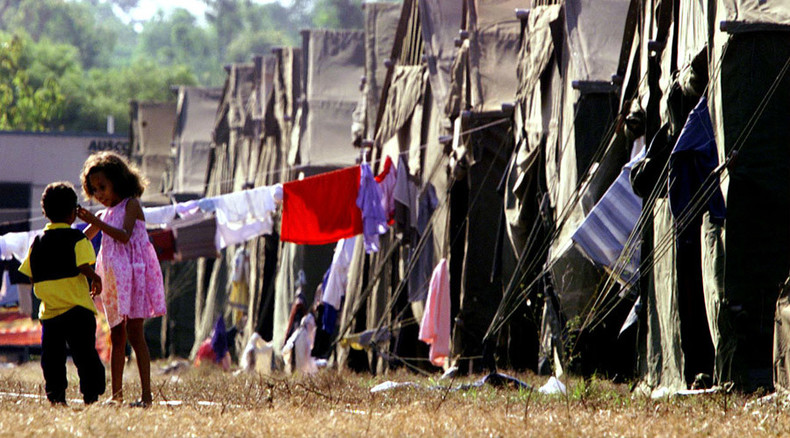 A former guard at Australia's infamous Nauru immigrant processing center has come out with shocking testimony pointing to waterboarding, saying he witnessed inmates coughing up water as they were leaving guarded tents.
The former Wilson Security guard had walked back on his earlier statement that he had witnessed asylum-seekers being actually waterboarded at Nauru. However, John Nichols told a Senate inquiry that he saw what pretty much amounted to direct evidence of the practice that first gained widespread notoriety at the United States' Guantanamo Bay prison, which involves simulated drowning.
He further said he had heard guards "brag openly" about the activity.
READ MORE: Thousands march in 12 Australian cities to demand end to country's 'cruel asylum-seeker policies'
Another practice, called 'zipping' – involving being tied to a bed with cable ties, with the bed then thrown in the air – also took place, according to the former guard, as reported by the AAP.
Nichols also alleged that he was instructed to dispose of NGO reports on a regular basis, and that his employer had misled the committee about it stringent practice of encouraging guards to use the whistleblower hotline whenever the need arose.
Further to this, he claimed that certain colleagues of his were made to spy on a Senator Sarah Hanson-Young when she visited the center.
The Senate committee is tasked with investigating transgressions by security guards at the Australian-funded center for migrants, after refugee claims that waterboarding had been taking place.
Nichols, who had worked there in the period between 2013 and June of this year, has come out with claims that Palestinian refugees had been water-boarded on "two or three occasions" in 2014, according to the ABC.
He claimed that "members of the ERT [Emergency Response Team] ... conducted [water-boarding] against members of the Palestinian community that was on Nauru, refugees.
"These matters were raised with my direct supervisor," he added. "Senior management, I'm not sure [if they were told], but definitely management that was on the ground."
However, Nichols altered his earlier testimony, when questioned by a different senator, saying he had "not personally witnessed the actual event, but witnessed what I firmly believe to be the actions after.

"Water coming out of their mouth, coughing up water."
The same went for his earlier statement that torture was commonplace "throughout the facility," something Nichols later changed to reflect that it had only been a particular part of the center.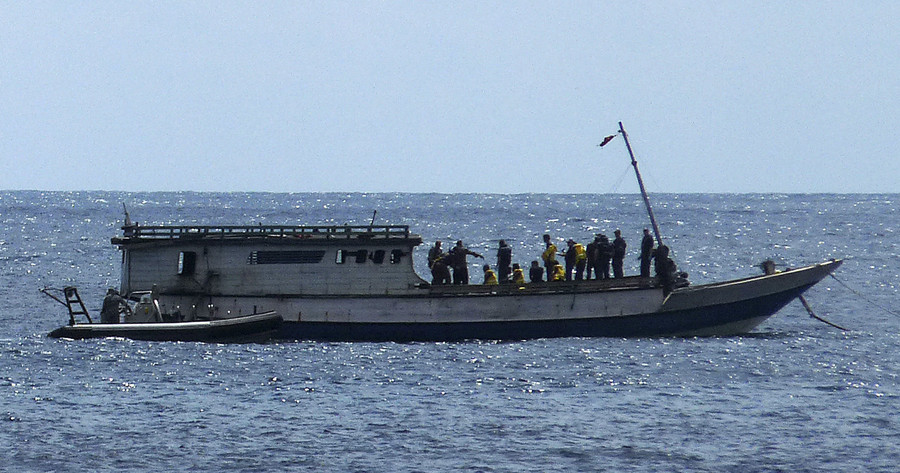 Wilson Security – the company that employed Nichols - called the allegations "preposterous."
"I can categorically confirm there has never been a report or even slightest rumor of activity of this nature," John Rogers of the firm said. "Before this afternoon the only allegations resembling these have been reported by a lawyer representing an ex-employee who has indicated that his client will give evidence in this regard."
The enquiry was also attacked by Immigration Minister Peter Dutton, who prior to the hearing called the torture allegations "nonsense," blaming the Greens and Labor parties for running "a kangaroo court."
Nonetheless, despite going back on his claims that he had witnessed the torture directly, Nichols said he was also regularly told to shred evidence of Save the Children reports on the happenings at the immigrant center, according to the AAP.
In addition to that, the former guard said that Wilson Security was untruthful about instructing its employees to report all transgressions to a whistleblower hotline.
Rogers countered this, saying that the entire thing would have been impossible for a number of reasons: chief among them that there would have been hundreds of witnesses to see what Nichols had seen; and that there was no running water in the tents.
Further to that, Wilson claims that the incident reports supposedly shredded would have only been drafts and copies, and that nothing malicious was taking place.
With regard to the spying on Hanson-Young, Wilson claimed that it had been carried out by a "misguided" supervisor – something the said supervisor had confirmed in a sworn affidavit.
The results of the committee's investigation will be released August 31.
Despite the uncertain nature of what really went down, Nauru has already gained infamy for being a tough place to be an immigrant. A pediatrician recently said he was "breaking the law" by talking to RT about some of the practices he had witnessed at the center, and that he could "go to prison… for telling the truth…"
David Isaacs said he witnessed a girl "try to hang herself" and was appalled at the general treatment of immigrant children at the camp. "The parents are very troubled," Isaacs said. "When the parents are troubled, the children also become troubled, so either they become depressed, or they become angry," he said.
Numerous other accounts have emerged out of Nauru, alleging guards bragging about cruelty to the inmates - something that was caught on video.
Amnesty International has joined the calls urging for greater transparency on the issue: adding further weight to Nichols' claims, the organization, having conducted multiple visits, has come to the conclusion that there is almost no effective means of communication with the outside world for the inmates, aside from sporadic monitored internet and one-two phone calls a week. This renders the prospects of complaining to lawyers and rights advocates near-useless, as the refugees are forced to keep silent for fear of reprisals.
The reports come on the heels of April's inquiry by the Australian Supreme Court, which proposed granting extensive powers to the guards at the refugee center, including resorting to violent use of force. In the interest of security and peace, the guards could in theory go as far as "beating asylum-seekers to death," according to Stephen Charles SC, who was the Victoria court of appeal judge until 2006. The idea of using force was voiced as part of an amendment to the new immigration bill.
Claims have also emerged that the Australian government was fully aware "for years" of the ongoing horrific rights abuse underway at Nauru.