'Baseless & fictional': Russian sports minister refutes anti-doping agency's report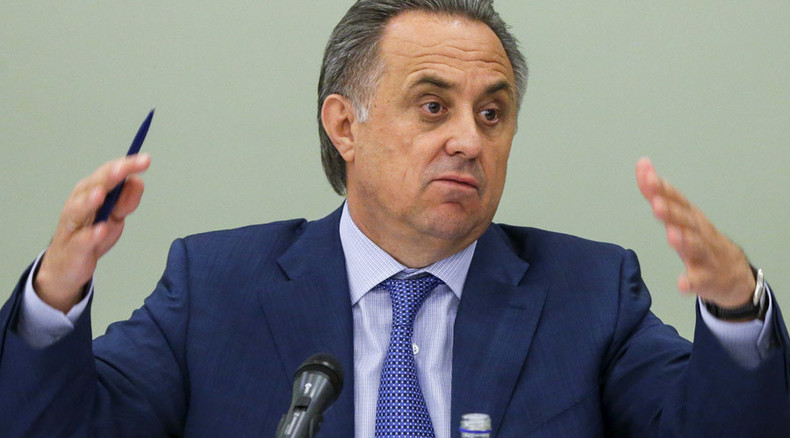 All the conclusions in the World Anti-Doping Agency's report are based on unconfirmed sources and unfounded facts, Russian sports minister Vitaly Mutko told RT, adding that the far-fetched report aimed to turn public opinion against Russian athletes.
LIVE UPDATES: WADA calls for Russian athletes ban over doping allegations
In the exclusive interview to RT, Mutko refuted WADA's 323-page report which claimed that athletes were encouraged and helped to evade detection of doping substances by state-funded agencies: the anti-doping agency RUSADA, Russian athletics federation, and the testing laboratory in Moscow.
Mutko has called the report's conclusions "baseless" and "really fictional."
"The Russian doping agencies today are really independent from the government," Mutko said, adding that the country will continue to finance and endorse sports. "We only collect samples that are then stored in a laboratory and are supervised for decades. It is not Russia that now heads the anti-doping organization."
Mutko says that Russia annually collects some 15,000 samples, with the total number of athletes disqualified standing at roughly 2 percent, "same as in other countries."
"It is impossible to hide anything today. All of the data is there in the databases supervised by WADA. Many of them just cannot be forged," Mutko said, adding that allegations surfaced to "cast a shadow on Russian sports."
Mutko went on to criticize statements made by Richard "Dick" Pound, the former WADA president who led the 11-month investigation.
"There is the report of the commission and there is the opinion of Mr. Pound, who actually overstepped and exceeded the competence of this commission, and gave his personal assessment, rather a general assessment of the entire anti-doping activities in Russia."
Pound's allegations are based on "unsubstantiated facts" and "unknown sources," the minister told RT.
According to Mutko, WADA's conclusions sound like, "We don't have confirmation today that the government interferes, but we believe it does. We don't have proof, but we still believe that they are guilty."
Such an approach, Mutko says, is "offensive" to a major international sports-competing nation.
"You can't just go on like this. You need to understand our sentiment. Sometimes it is just offensive. The country has done so much to provide support for sports... and still all the time we have to prove something to someone."
"After all, we are talking about the president of the international track and field federation who is facing charges, not Russia!" Mutko highlighted to RT. "So why are we blaming Russia?"
He called WADA's probe a "double standard", claiming that no one establishes similar commissions to investigate other doping allegations.
"There are dozens of publications alleging the use of doping," Mutko said. "I won't name the specific countries or athletes, and no one established special commissions to investigate that."
The Minister says that the Russian penal system has administrative punishments in place for those caught using doping, as well as criminal charges against the heads of different sports federations in Russia that endorse illegal substances.
Russia, according to the Minister, is "very committed" to punishing those who have used the illegal substances to climb to the zenith of sport glory. Mutko reminded that the Russian athletics authorities are already investigating claims of mass doping, after August revelations by German broadcaster ARD of a huge cover-up in the International Association of Athletics Federations (IAAF).
The minister also reminded that anyone caught "red-handed" using doping is stripped of their titles and "strictly penalized" by the Russian anti-doping agency, regardless of their status.
The heads of sports in the country stressed that Russia is a "great sports nation" that has experience hosting "prominent international events." In addition Russia has the one of the largest national teams in the Olympics, whose athletes often spend time training abroad, where they are "supervised by international anti-doping agencies," not Russia.
"Russia invests tens of millions of dollars to fight doping. We created one of the best anti-doping laboratories which now has all the necessary capabilities to control the use of doping," Mutko said.
Russia is very "reliable" and "integral" partner in the world of sport which has conducted business based on international standards.
"We pay our membership fees to WADA, we finance a foundation that does research for anti-doping purposes. We support UNESCO in this area," Mutko said.
"Even if you bar Russia from competition today, you will hardly solve the problem. Do you think Russian teams get barred from international events more often than other ones? Of course not. We believe that Russia is just actively more involved in sport. We have more athletes competing for international titles, so it is all explainable."
Mutko said that Russia will do whatever is necessary to clear up the matter.
"We will respect and pay attention to any commissions that will set out to look into this. And we will provide whatever information is needed."
"If WADA launches any new initiatives or a road map we will whole heartedly support it," Mutko said, adding, "we only advocate that the political issues should not interfere in the affairs of sport."
As for himself, Mutko says that he remains "calm". He also denied allegations against him personally, saying he is not the one who decides who gets selected for sports competitions. The whole scandal he believes is not about Russia, but rather the "reputation of sports."
"There are more federations that will have similar issues in the future," he stressed. "We are in favor of clean sports. We are in favor of fair sports. To allege that Russia is against it would be wrong."
LISTEN MORE:
You can share this story on social media: