2 Americans among 6 killed in attack on police training facility in Jordan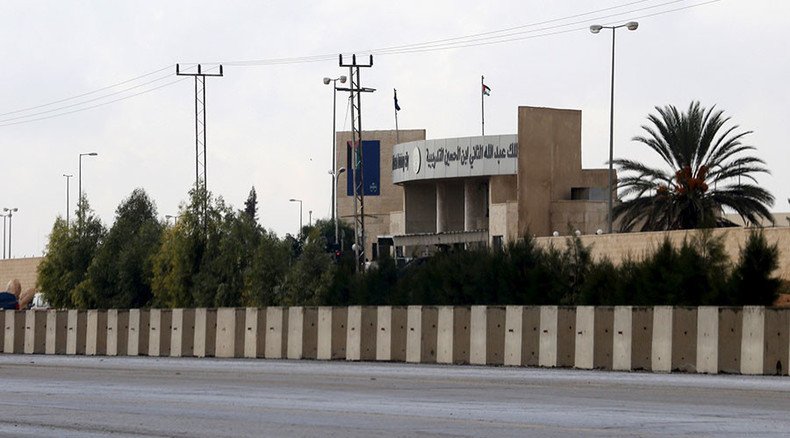 A gunman opened fire at the US-funded security training facility on the outskirts of the Jordanian capital of Amman. The attack left at least six dead, including 2 Americans, 2 Jordanians and a South African, as well as the gunman himself.
Two Americans were among those killed in the shooting, according to US sources who spoke to Reuters.
A spokesman for the Jordanian government, however, put the death toll at five, which rose to six "after a Jordanian victim succumbed to wounds sustained during the shooting," according to a statement released by the Jordanian embassy in Washington.
The attacker was a senior co-trainer who had the rank of captain, a Jordanian security source said, as cited by Reuters.
The attack took place at Mwaqar camp, funded by Washington – a facility for training Iraqi and Palestinian special security forces. Security company DynCorp confirmed its staff came under fire in the attack.
Earlier reports had claimed that the assailant committed suicide after killing the contractors. However, Mohammad Momani said that the attacker had been shot dead shot by security forces.
The attacker's identity has not been officially disclosed. However, he was identified as 29-year-old Anwar Abu Zaid by his brother, Fadi, who spoke to AP.
Fadi Abu Zaid said that his brother, who has a wife and two children – a boy and a girl – joined law enforcement when he was 18, was mentally stable and "not an extremist at all." Abu Zaid went to work as usual on Monday morning, his brother said.
READ MORE: US citizens warned not to shop in Jordan after 'credible' terror threats
An investigation has been launched into "the reasons behind the crime", Momani said in a statement released by Jordan's Petra news agency.
Jordan's King Abdullah II visited those injured in the deadly attack at the country's main military hospital in Amman.
The US and Jordan will be closely cooperating on an investigation into the incident, President Obama said in a statement. "We take this very seriously and will be working closely with the Jordanians to determine exactly what happened," Obama said during a meeting with Israeli PM Benjamin Netanyahu at the White House on Monday.
The US State Department said that it has contacted Jordanian authorities.
"We have received reports about a security incident at the Jordan International Police Training Center. We are in contact with the appropriate Jordanian authorities, who have offered their full support," State Department spokesman John Kirby said.
You can share this story on social media: