Anti-fascist demonstrators clash with police in Italy's Bologna (VIDEO)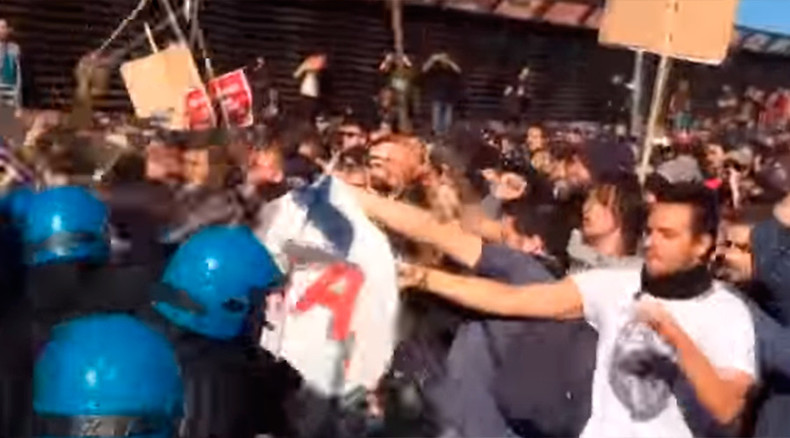 Leftist demonstrators clashed with police in Bologna as they protested a meeting of the right-wing Northern League party leader with former Prime Minister Silvio Berlusconi, held in the Italian city.
The protesters used wooden sticks to attack the police, with the security forces using riot shields and batons to push back the angry crowd back.
At least one officer was injured during the Sunday's clashes, Reuters reported, citing the Italian media.
A police force of 600 was deployed in Bologna to separate the Northern League rally and the leftist counter-protest, in which hundreds took part, according to Bologna Today.
Various leftist groups in Bologna decry the Northern League's views on immigration, saying that they are fascists, who are not welcome in their city.
Overnight unknown perpetrators set fire to railway cables, which caused the shutdown of the key Bologna-Milan railtrack for several hours.
The saboteurs left an anti-fascist graffiti behind them, leading to suggestions that the move was aimed at preventing the right-wing supporters from arriving in Bologna.
REAd MORE: Berlusconi & 5 other renowned figures non grata in Ukraine
Matteo Salvini, Northern League leader, was meeting with former PM Berlusconi to discuss a possible alliance capable of challenging the Democratic Party in the next election.
REAd MORE: Putin, Berlusconi hold informal meeting in Crimea
The Northern League united several regional parties in 1991 to push for greater autonomy or even independence for Italy's northern regions.