Putin, Berlusconi hold informal meeting in Crimea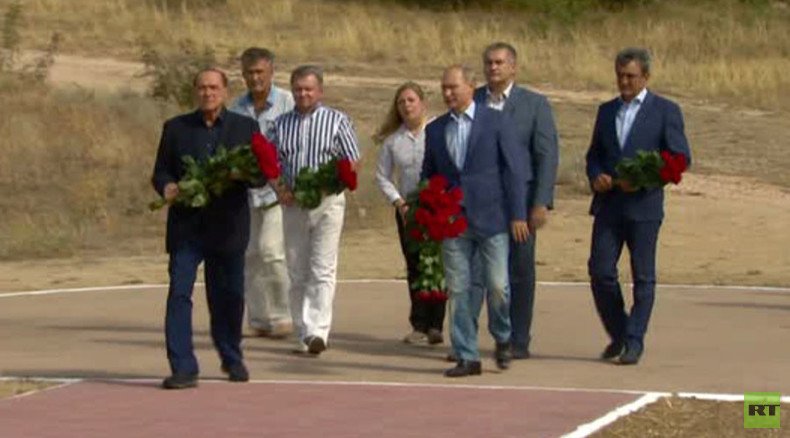 The Russian president has met with his ally and personal friend, former Italian PM Silvio Berlusconi, in Crimea near the monument erected in memory of Sardinian soldiers who died in the Crimean War in the 19th century.
During the flower laying ceremony Vladimir Putin proposed to create a park around the memorial and to restore a plaque inscribed with the names of buried Italian soldiers with the help of the Italian Artillery Museum.
Berlusconi arrived in Russia on a private visit earlier this week and prior to visiting Crimea he spent two days in the Black Sea resort city of Sochi.
The meeting between Putin and Berlusconi was announced earlier Friday by Vladimir Putin's press secretary, Dmitry Peskov. He reminded reporters that the two politicians had been friends for a long time. Peskov noted that during their informal meeting Putin and Berluskoni would exchange opinions on various political issues, including "the most urgent regional problems."
"Any contacts between politicians and statesmen of Berlusconi's rank – regardless if they are currently in office or not – of course they fall under the category of diplomacy," the presidential spokesman said, adding that Vladimir Putin attached great importance to such contacts.
READ MORE: Berlusconi to push for lifting of anti-Russian sanctions
In mid-June, Putin and Berlusconi met in Rome and the Italian politician promised that his party, Forza Italia, would urge the government to lift anti-Russian sanctions, which – in his words – were harming both ties with Russia and Italy's own national interests.
Berlusconi also said his Forza Italia party was planning to urge the Italian government to "commit itself" in convincing other European countries to follow its lead in lifting sanctions and "convince our American friends that the return to the atmosphere of the Cold War is inadmissible."
The Crimean Republic reunited with Russia in April 2014 after a government coup in Ukraine led to a military conflict in the southeastern regions of the country. Crimea's accession was approved by an overwhelming majority of its citizens in a referendum – but western nations, including the US and the EU countries, refused to recognize it and imposed various sanctions on Russian and Crimean officials who supported the move.
Despite the threat of sanctions, in July a group of Italian MPs from the Five Star Movement, known for its Euroskeptic stance, announced that they planned pay a personal visit to Crimea to get firsthand information on people's lives and the political situation on the ground. Similar statements have also been made by German and Polish lawmakers.
READ MORE: Most Crimeans 'happy to be back in Russia' – head of French delegation to peninsula
These announcements came made soon after a delegation of French lawmakers visited Crimea and met with the republic's leaders, as well as with ordinary citizens.
When the visit was completed, the head of the group, MP Thierry Mariani, told reporters that he and his colleagues found the people in the region to be free and happy, adding that in his opinion there were no grounds to keep the EU sanctions against Russia in place.
You can share this story on social media: