Berlusconi to push for lifting of anti-Russian sanctions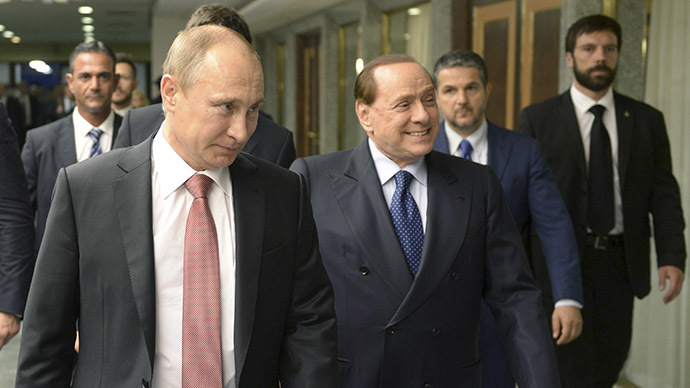 Silvio Berlusconi's party, Forza Italia, will urge the government to lift anti-Russian sanctions, which are crippling bilateral ties and harming Italy's national interests, the former Prime Minister said after his meeting with President Vladimir Putin.
"Tomorrow we will present a motion calling on [the] government not to continue the sanctions against Russia, sanctions which harm our interests, causing significant financial losses," Silvio Berlusconi said after his meeting with Putin at Fiumicino airport in Rome.
Berlusconi also said his Forza Italia party was planning to urge the Italian government to "commit itself" in convincing other European countries to follow its lead in lifting sanctions and "convince our American friends that the return to the atmosphere of the Cold War is inadmissible."
The issue of Western sanctions and bilateral trade ties took center stage of Putin's short visit to Italy.
READ MORE: Sanctions eroded 25% of Russian-Italian trade in 2015 – Putin
While meeting with the current Italian Prime Minister Matteo Renzi in Milan, Putin was quick to point out that Italian companies had lost more than $1 billion due to the restrictive measures, while the trading volume shrank by one quarter in the first three months of 2015. The Russian president said that the sanctions also affected Russian-Italian military cooperation.
In Rome, meeting with Italian President Sergio Mattarella, the leaders discussed the necessity of maintaining strategic bilateral relations in "all spheres" and not allowing them to "become hostage" of current difficulties, Kremlin spokesman Dmitry Peskov said. He added both Mattarella and Putin agreed "all countries in Europe are paying too high a price for the ongoing internal Ukrainian conflict."
Mattarella's stance seems to echo statements by the Italian Foreign Minister Paolo Gentiloni who recently said that "Italy can't afford to close the doors to Russia" and "can't cut ties" with Moscow.
READ MORE: 'Italy can't afford to close doors to Russia' – Italian Foreign Minister
Berlusconi got a chance to meet Putin right before his departure to Moscow, and reminisce about the good old days of positive NATO-Russia relations.
The 78-year-old Italian said he remembers the times when world peace was fragile between the two nuclear superpowers. Berlusconi and Putin recalled the 2002 dialogue and cooperation, which established the NATO-Russia Council (NRC), which the former Italian Prime Minister said had put an end to the nuclear "nightmare."
Berlusconi stressed the need to normalize relations between the West and Russia, insisting that is vital for cooperation on a global scale.
The 78 year-old said he is happy that Putin found time to visit Italy and even meet him personally, announcing that he will soon return the favor and come to Moscow. Berlusconi and Putin share a long personal connection over the years, and according to the Russian President, the bond of friendship they share doesn't depend on political necessities.
You can share this story on social media: