'Italy can't afford to close doors to Russia' – Italian Foreign Minister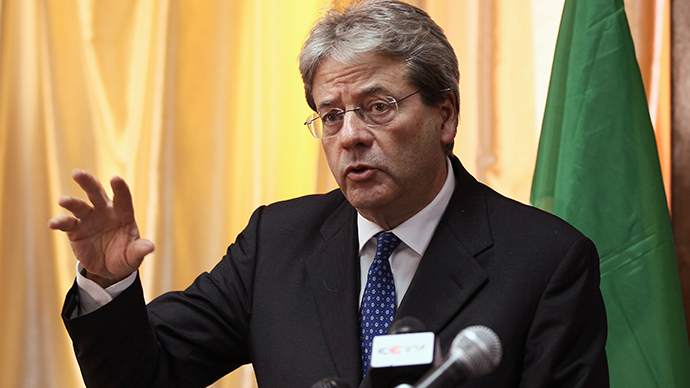 Italian Foreign Minister Paolo Gentiloni has said that "Italy can't afford to close the doors to Russia" and "can't cut ties" with Moscow. His statements come just days after Italian officials postulated that the sanctions against Russia may be lifted.
"Italy can't afford to close the doors to Russia. At the moment of the situation in Ukraine, we imposed sanctions on the government of Moscow, but we can't cut ties," Gentiloni told La Stampa newspaper in an interview.
Gentiloni added that Russia plays a major role in resolving world crises, and he hopes Russian President Vladimir Putin will visit the Italian exhibition "Expo-2015", and meet with the Italian premier, Matteo Renzi.
At the same time, Gentiloni said that the Italian government "supports Kiev" and that the Ukrainian authorities "have to do the necessary, painful economic and constitutional reforms, including the independence of the Donbass [Donetsk region]".
READ MORE: Lack of EU unity will prevent new anti-Russian sanctions – MP
The latest interview follows a diplomatic demarche by the Ukrainian Ambassador to Italy Heorhiy Chernyavskyi over a recent statement by Federico Eichberg, the Head of a Task Force on Foreign Investments at the Ministry of Economic Development, who said that Italy wouldn't support the continuation of sanctions against Russia.
"Italy has made it clear since February that the Council of Ministers will not vote for the extension of sanctions," Eichberg said at an Italian business conference in Milan last week.
READ MORE: Anti-Russian sanctions 'counterproductive', not a solution – Italian FM
Over the past year, Italian media published articles about the economic impact sanctions had on the country's economy, with trade turnover falling by 17 percent, and the Italian economy losing 5.3 billion euros.
You can share this story on social media: