Almost 60,000 passengers grounded as Lufthansa staff start longest-ever strike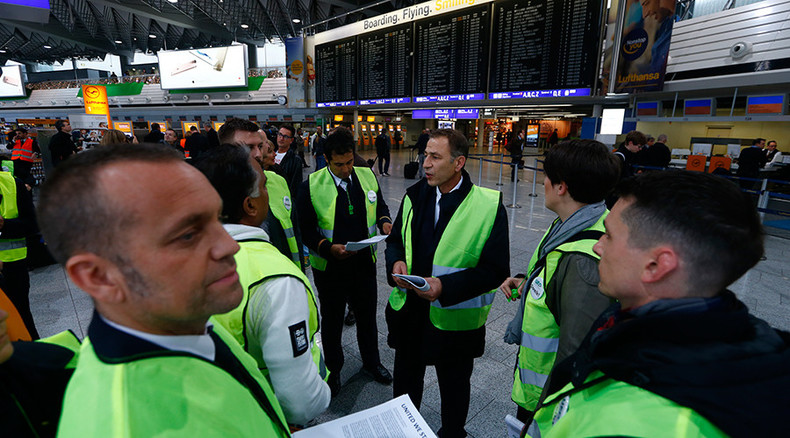 Lufthansa has canceled 520 flights scheduled for Saturday, with at least 58,000 passengers expected to be affected as cabin crew went on their longest-ever strike in a 2 year-long pensions dispute. Cabin staff joined the strike for the first time.
The Independent Flight Attendants Organization (UFO) plans to stage walkouts over the course of the next six days.

Strikes by pilots have already cost Lufthansa 130 million euros so far this year. Equinet analyst Jochen Rothenbacher told Reuters that walkout costs could total 20 million euros ($21 million) a day, depending on the number of cancellations. Should the union strike for seven days, as promised, it could cost the company 140 million euros.

All European and domestic services have been scrapped, with the exception of some flights between Munich and Frankfurt, as well as three Frankfurt-London Heathrow links. No intercontinental flights will be hit, however, the airline said, with the exception of one connection between Dusseldorf and Newark, New Jersey.

Saturday's stoppage will last until 2200 GMT, UFO said. UFO reassured that no strike is planned on Sunday because most people traveling that day will be doing so in a private capacity, not on business.
Read more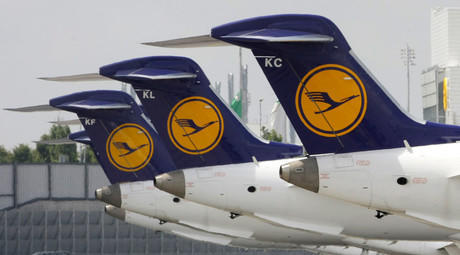 The union began walkouts Friday afternoon, affecting flights to and from the airports of Frankfurt and Dusseldorf. Friday's work stoppage grounded over 37,000 passengers as 290 flights, including 23 intercontinental services, were canceled.

"Lufthansa will do its utmost to keep the effects of a strike to a minimum and to inform passengers as soon as possible," the company said, adding that it regrets any inconveniences caused by the strike.
READ MORE: Lufthansa pilots' strike leaves 200,000 stranded after weekend train chaos

According to the union, industrial action was "unavoidable" after Lufthansa and UFO failed to reach an agreement over early retirement benefits and pensions. UFO wants the current system of early retirement provisions to remain unchanged, while Lufthansa argues that the system is too expensive, given low-cost rivals such as Ryanair and Easyjet breathing down the company's neck. Lufthansa wants to scrap an arrangement under which pilots can retire at 55 and receive up to 60 percent of their pay until they reach the statutory retirement age of 65.

Flights operated by Lufthansa subsidiaries, such as CityLine, Germanwings, Eurowings, Air Dolomiti, Austrian Airlines, SWISS and Brussels Airlines are not affected by the potential strike actions and will therefore run as planned.