Lufthansa pilots' strike leaves 200,000 stranded after weekend train chaos
Published time: 20 Oct, 2014 17:14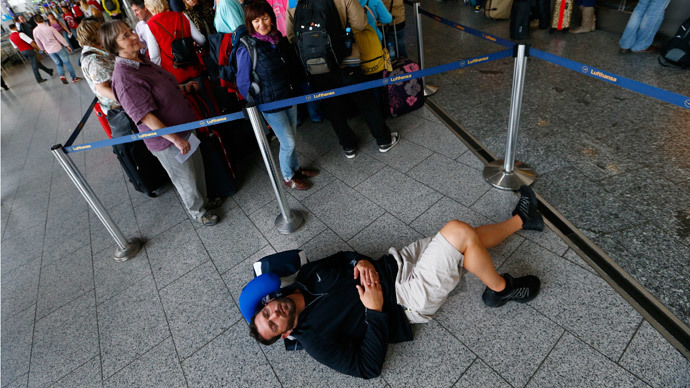 More than 2,150 flights operated by leading German air carrier Lufthansa have been affected by a 35-hour strike that began on Monday, just hours after a weekend of devastating rail strikes across the country.
Lufthansa says 200,000 people have been hit by the strike, although the company has assured it has found replacement pilots for around a third of the canceled flights. Vereinigung Cockpit (VC) which numbers just over half of the airline's 10,000 pilots, called the eighth strike this year, which is impacting short-haul flights on Monday, and long-haul on Tuesday.
VC is demanding that Europe's biggest airline maintain its current employment protocols, which allow pilots to retire at 55 on 60 percent of their salary, before claiming a full pension at 65.
"Regrettably Lufthansa has not acted on the compromise proposals of VC after seven strikes now since April this year and is stonewalling," said a statement from the union.
Lufthansa, which made a profit of just €313 million on revenues of over €30 billion last year, has offered to gradually increase the pension and retirement age, so that those who have worked at the company the longest would be minimally affected by the changes. Under the proposed rules, new pilots would retire at 60, and for those already flying each year previously worked with Lufthansa would slash 2 months off the retirement age, so that those who have worked for 30 years could still retire at 55.
"Lufthansa views the Vereinigung Cockpit's announcement of its latest strike action as totally incomprehensible and disproportionate," said the airline, in a rancorous response.
"Lufthansa's remaining 115,000 employees have made their contribution to ensuring the company's long-term future and competitiveness in a harsh and unfair global market arena. So Lufthansa does not see the slightest reason why this particular employee group should be solely determined to retain its present status and privileges for decades to come, and to do so even for pilots who are yet to join the company."
Lufthansa called for "urgent action" on a new German law, expected to be considered by the Bundestag later this year, which will restrict the ability of groups of specialized employees to paralyze key infrastructure with strikes at a moment's notice. At the weekend, millions were stranded by a rail strike, carried out by train drivers demanding higher pay and shorter working hours. Only a third of the trains were running across the country.
Both strikes have been particularly damaging, since Germany is currently in the school holiday period, when demand for travel is greatest.