'Illegal invasion': Okinawa challenges Tokyo's move to resume work on US base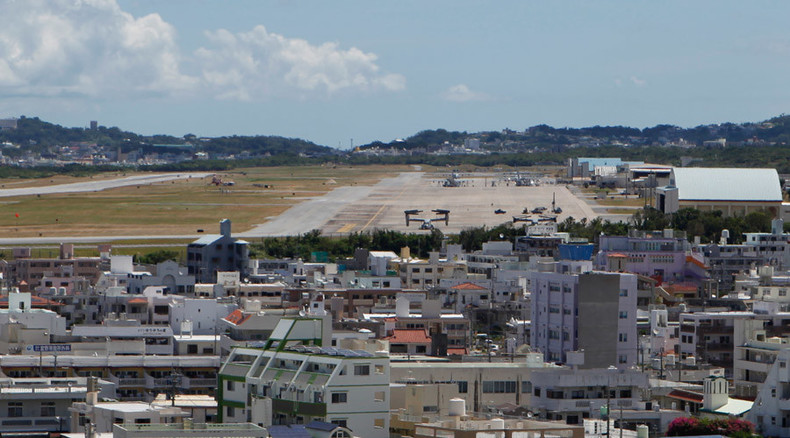 Okinawa authorities have filed a complaint against the Japanese government's decision of October 28 to recommence work on a landfill project that is preparing a site for the relocation of a US military base, labeling it an "illegal invasion."
Okinawa Governor Takeshi Onaga blasted the Wednesday move, asserting "the decision by the land minister represents illegal involvement," the Japan Times reports.
The local government filed a complaint with a third-party panel, the Central and Local Government Dispute Management Council, after Tokyo restarted the landfill work on Thursday.
If the Council's ruling does not block the central government's work, which Okinawa has been opposing from the start, the local government plans to file a lawsuit.
Okinawa's previous governor, Hirokazu Nakaima, gave the go-ahead for the relocation of the US military's Futenma base to Henoko in 2013. The mood changed, however, in 2014, when Onaga was elected and promised to scuttle Tokyo's plans.
Last week, Onaga stressed that he would do everything is his power to block "the construction of a new base at Henoko," the Asahi Shimbun reported.
On October 13, Onaga revoked permission for the construction of a new US military base to host the US Marine Corps.
Tokyo is now looking to formerly invalidate Ogana's revocation and also plans to file a lawsuit, the Japan Times reported.
Okinawa prefecture, home to about one percent of Japan's population, hosts nearly half of the 47,000 US troops based in Japan.
Hundreds of demonstrators gathered outside the Ministry of Defence building in Tokyo on Monday to protest the resumption of landfill work.
Protesters holding up anti-war banners decried the US military presence in Japan and voiced their opposition to Japanese Prime Minister Shinzo Abe's government plan to push through the relocation of the US base.
The presence of US troops in Japan has been marked by years of tension between the residents of Okinawa and foreign servicemen. The conflict stems from 1995, when three US marines kidnapped and raped a 12-year-old Japanese schoolgirl.
Other less-publicized sex-related cases were reported in 2001 and 2005.
READ MORE: Japanese police drag away elderly protesters as work starts on controversial US airbase (VIDEO)

Among other incidents, there was the tragic death of a female high school student, who died after a drunken US marine ran her over in 1998.
LISTEN MORE:
You can share this story on social media: