China sends armed naval fighter jets over contested islands after US warship pass-by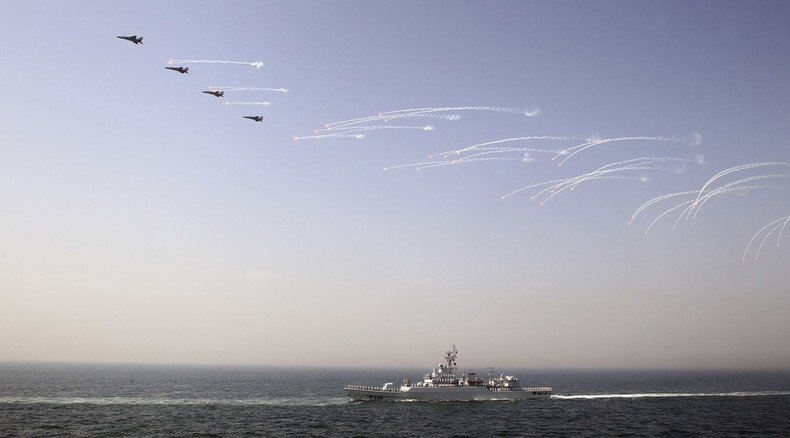 Days after a US warship sailed by contested islands in the South China Sea, Beijing conducted training for its naval jets in the same area. The armed aircraft flew from China's recently constructed island airstrip.
Last Tuesday, the USS Lassen passed through a 12-mile limit around Subi Reef in the Spratly Islands archipelago. The reef is one of seven that China has artificially reinforced to support its claim on the archipelago and the sea around it.
The area is believed to be rich in mineral resources, has fishing grounds and commands a position over several busy trade routes. The US rejects the claim and insists that the warship sailed through international waters.
In an apparent response to the American move, Beijing sent armed fighter jets for a training exercise in the area. On Saturday, the Chinese Navy released photos of the aircraft being launched from an airstrip in the South China Sea.
READ MORE: South China Sea tensions: US declares right to fly, sail anywhere intl law allows
According to some military experts the unidentified airstrip is located on Woody Island in the Paracels nearly 300km off the coast of Hainan and about 600km from the controversial reef.
"Both the defense ministry and foreign ministry have said China would have answers when its sea rights were breached. Such statements need to be followed by real actions," retired Chinese General Xu Guangyu commented on Beijing's move.
"It's a signal China sent to the US that it is serious about its claims. This is the minimum level of response China should have, or it will fail the expectation of its people," the South China Morning Post cited him as saying.
Beijing protested the USS Lassen mission in the South China Sea, accusing the US of escalating tensions in the region.
"The actions of the US warship have threatened China's sovereignty and security interests, jeopardized the safety of personnel and facilities on the reefs, and damaged regional peace and stability," the Chinese foreign ministry said in a statement.
The US shrugged off the criticism, saying it would sail and fly wherever it wants in the international space.
"The US has conducted naval operations in the South China Sea in recent days and will conduct similar operations in the future," US Defense Secretary Ashton Carter said.
In addition to China, several nations in the region claim sovereignty over the Spratly Islands, including Brunei, Malaysia, the Philippines, Taiwan and Vietnam. The US contests China's claim as part of its support of regional allies such as Japan and South Korea, which also have territorial disputes with China.
LISTEN MORE:
You can share this story on social media: