South China Sea tensions: US declares right to fly, sail anywhere intl law allows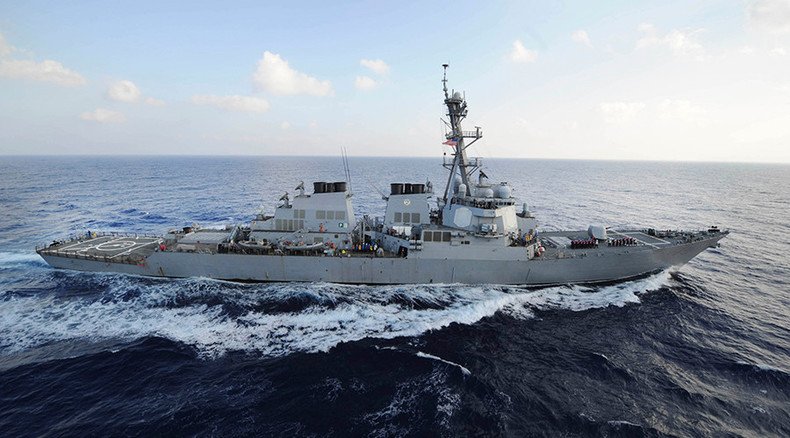 The US has shrugged off China's criticism over its warship patrol in the South China Sea saying that the operation had been conducted within the limits of international law and had not required any special permission.
"The US has conducted naval operations in the South China Sea in recent days and will conduct similar operations in the future," Defense Secretary Ashton Carter said.
"Our freedom of navigation operations do not assert any specific US rights," White House Eric Schultz said when asked about the details of a US Navy destroyer sailing past China's artificial islands, adding that the United States will fly and sail anywhere international law allows. He did not comment further.

China has criticized the US patrol operation, which led one of its destroyers past artificial island features created by China in the South China Sea, saying it was "an abuse of freedom of navigation." Beijing has promised to do everything necessary to "protect [the] country's security and interests".

The US actions have been dubbed as "completely irresponsible" by China's Foreign Ministry, which responded to American actions by summoning the US ambassador to China, Max Baucus.
Despite the spat, the presence of the US naval ships in the South China Sea should not affect its relations with Beijing, the US Department of State said on Tuesday. The cooperation between the two countries is "vitally important" and should keep on growing, it added.
Earlier on Tuesday the USS Lassen, a guided-missile destroyer, sailed within the 12-nautical-mile limit near manmade islands which were created last year. A Chinese warship followed and sent warnings to the US crew "according to law", China's Defense Ministry said, adding that the patrol was "coercive action that seeks to militarize the South China Sea region."
The US Naval destroyer entered the South China Sea "illegally" since it had no permission from the Chinese government, the Chinese Foreign Ministry said.
These types of operations may become regular and shouldn't be regarded as provocative, The US Defense official replied.
"We're a global nation and we need to be able to operate where we're legally allowed to operate," said the US added. "That's why you do these kinds of missions."
The incident took place just weeks before Asia-Pacific summits are to be held. They are scheduled for the second half of November and both US President Barack Obama and Chinese President Xi Jinping are expected to make an appearance.
The artificial islands created by China in the disputed territory host radar stations, runway strips and other installations. Beijing insists the facilities are used for peaceful purposes only. Moreover China claims sovereignty over the islands and the 12-mile territorial waters zone.
LISTEN MORE:
You can share this story on social media: