'Sicily is not a war lab!' Hundreds march against NATO drills (PHOTOS, VIDEO)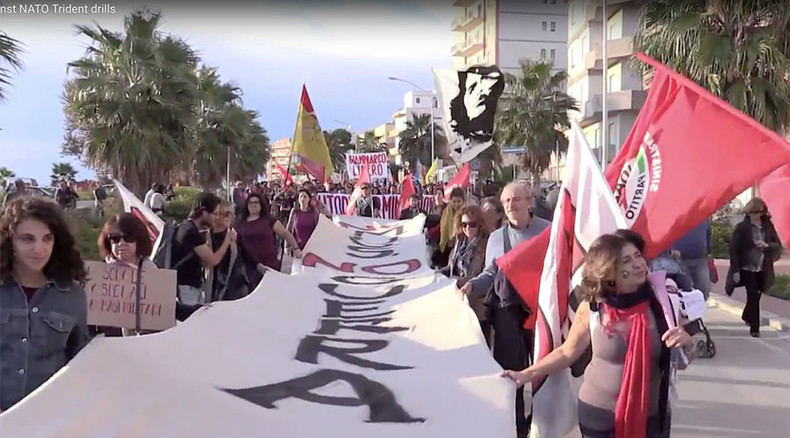 Hundreds of people have taken to the streets of Sicily protesting against Trident Juncture 2015, the largest military maneuvers in more than a decade, which NATO claims are designed to adapt the alliance to "emerging security challenges."
The protesters marched through the streets of the city of Marsala, less than 10 miles (16km) from Vincenzo Florio Airport. The airport is a base for the 37th Wing of the Italian air force and is one of the forward operating bases (FOBs) used by NATO Airborne Early Warning and Control.
Organized by the "No war, no NATO" group, activists from all corners of the Italian island marched with banners reading "Sicily is not laboratory of the war" and "Sicily is no war zone". People urged the Italian government to better invest in education and the medical sector rather than military activity.
Accompanied by police in riot gear, the procession blocked traffic in the city center as protesters proceeded to reach Victory Square. A large portion of the crowd expressed concern with NATO activities disturbing the local tourism industry.
The US-led Trident Juncture 2015 military exercises which began on October 19 involve 36,000 troops from 30 countries. More than 160 aircraft including fighter jets, helicopters, surveillance planes, and drones, operating from 15 air bases in Italy, Spain, and Portugal, the three Allies hosting Trident Juncture are also taken part in the maneuvers. The exercises are the biggest NATO military exercise to take place since 2002.
NATO has significantly stepped up its military presence and activity along the Russian border, including in the Baltic states and eastern Europe, since Russia's reunification with Crimea and the outbreak of conflict in eastern Ukraine, which the alliance blames on Moscow. Russia views NATO's ongoing expansion and constant military activity as hostile and destabilizing.