Tokyo orders work to start on Okinawa US base, despite governor's opposition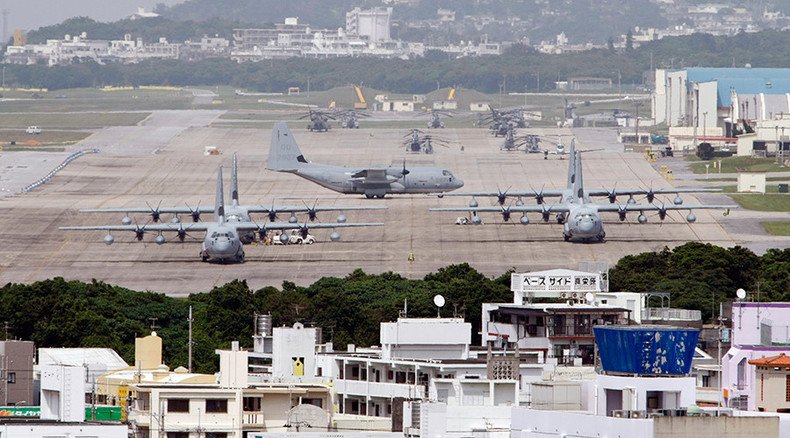 Japan's Defense Ministry says it will restart work on a land reclamation project, which is vital for a proposed US military base on the site. This is likely to infuriate the local Okinawa prefectural government, who are deeply against the move.
Work is planned to start on Thursday and will create storage space needed to start the landfill work. The Okinawa Defense Bureau will also continue a seabed drilling survey off the coast of Henoko, where an alternative US base could be built.
"An administrative decision to start the landfill work has already been made," said Chief Cabinet Secretary Yoshihide Suga on Wednesday, as cited by the Japan Times.
The Okinawa government says it refuses to accept the notice and has asked the bureau to consult with them before starting the landfill work. Tokyo says these talks have already finished.
On October 13, Okinawa Governor Takeshi Onaga revoked permission granted for the construction of a new US military base to host the US Marine Corps, following their relocation from the Futenma Air Station from the heavily populated city of Ginowan.
"I will continue to do everything in my power to fulfill my campaign pledge of not allowing the construction of a new base at Henoko," Onaga said, according to the Asahi Shimbun.
However Onaga appears to have been outflanked. Land Minister Keiichi Ishii suspended the landfill approval cancelation on Tuesday, while Tokyo said it would now be giving itself permission to carry out the work and sideline the governor.
The Land Ministry asked Onaga to withdraw his cancelation of the landfill approval by November 6, the Japan Times reports.
"This is like an ultimatum from the government," Onaga told a news conference on Tuesday. "It's not just unfair but also insulting to many people in the prefecture. It's absolutely unacceptable."
The previous Okinawa governor, Hirokazu Nakaima, gave the green light for the relocation of the base in 2013. However, after Onaga won the elections in 2014, he promised to oppose the plan – to the delight of the majority of locals.
There has been tension for years between the local population and US servicemen. This dates back to a notorious crime committed in 1995 when three US marines kidnapped and raped a 12-year-old schoolgirl.
There have also been less-publicized sex crime cases involving underage victims reported in 2001 and 2005, the fatal running over of a female high school student by a drunken US marine in 1998, and other incidents.
Okinawa, home to about one percent of Japan's population, hosts nearly half of the 47,000 US troops based in Japan.
LISTEN MORE:
You can share this story on social media: