China 'not frightened of war with US' – Chinese media after Spratly Islands destroyer incident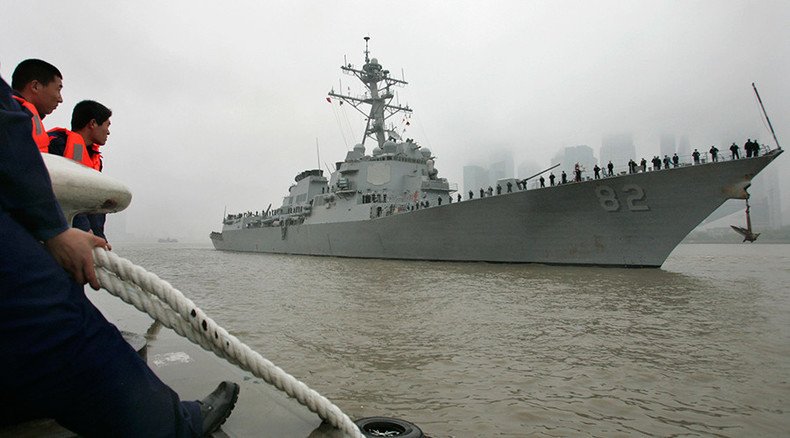 The presence of the USS Lassen near the disputed Spratly Islands is a "political show" to be dealt with calmly, China's nationalistic Global Times wrote, stressing the country "is unwilling but not frightened to fight a war with the US in the region."
The passage of the US Navy guided missile destroyer USS Lassen past an artificial island in the Subi Reef of the Spratly archipelago remains under the scrutiny of Chinese military, diplomacy and media.
China's Global Times, known for being closely aligned with China's communist party, published an op-ed entitled: "After the show, it's time for US destroyer to leave", which expressed an unusually cocky opinion of the incident.
"We should stay calm. If we feel disgraced and utter some furious words, it will only make the US achieve its goal of irritating us," the article says, in its analysis of the nature of US harassment. "It seems that the US only wants to display its presence."
"China, despite its unwillingness, is not frightened to fight a war with the US in the region, and is determined to safeguard its national interests and dignity."
The article goes to say that "Beijing ought to carry out anti-harassment operations... should first track US warships. If they, instead of passing by, stop for further actions, it is necessary for us to launch electronic interventions, and even send out warships, lock them by fire-control radar and fly over the US vessels."
Washington has repeatedly expressed unwillingness to recognize China's claims on some islands in the Spratly archipelago, where Beijing has launched massive earthworks. They are creating artificial islands and constructing two air strips capable of receiving military planes, thereby boosting Chinese military presence in the region.
"Beijing's construction work in the area is completely legal, and there is nothing Washington can blame it for," the Global Times said.
With most Chinese export and import operations using South China Sea routes, the region is of crucial importance to the world's second largest economy.
Beijing has consistently expressed readiness to project its economic power and secure its national interests both through diplomacy and a constantly growing military capability. China has not flexed its military muscle since the war with Vietnam in 1979.
On October 27, an American warship sailed through the 12-sea mile (22-kilometer) zone within the islands, a maneuver that raised Beijing's ire.
Chinese Vice Foreign Minister Zhang Yesui lectured US Ambassador Max Baucus on Tuesday, urging the US to "immediately correct its wrongdoing," Xinhua reported.
Chinese Foreign Minister Wang Yi warned the US not to "make trouble out of nothing" in the South China Sea on Tuesday, Xinhua cited the minister.
The US has refuted China's criticism over its patrol in the South China Sea, saying the operation had been carried out in accordance with international law and had not required any special permission.
"The US has conducted naval operations in the South China Sea in recent days and will conduct similar operations in the future," Defense Secretary Ashton Carter said.
LISTEN MORE:
You can share this story on social media: