Nearly 40% of Fukushima crisis responders received more than year's dose of radiation – govt survey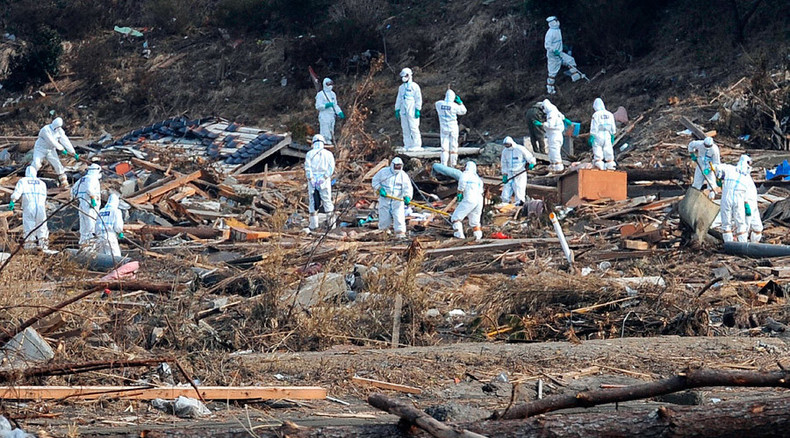 Some 38 percent of those involved in the emergency assistance operation at the Fukushima plant in March 2011 suffered radiation exposure exceeding the yearly public norm, the Japanese government has announced after surveying nearly 3,000 workers.
The new government-run study, organized by the Cabinet Office, revealed that 38 percent of personnel from the Japan Self-Defense Forces, police officers and firefighters involved in the immediate operations following the 2011 Fukushima nuclear crisis, had been exposed to radiation levels higher than the annual public limit.
The Japanese government-recommended safety levels for civilian exposure to nuclear radiation is set at 1 millisievert per year, Kyodo News reports. Nuclear power plant employees, under government safety rules, can be exposed to 100 millisieverts over five years and no more than 50 millisieverts per year under normal operation procedures.
The testing of some 2,967 emergency workers who participated in the evacuation of residents, living within a 20-kilometer radius of the Fukushima Daiichi nuclear complex, showed that 19 percent received one to two millisieverts, while 5 percent suffered radiation exposure of five to 10 millisieverts from their deployment between March 12 and March 31, 2011.
The survey has claimed that the remaining 62 percent were exposed to radiation levels of less than one millisievert, with daily radiation doses at the time peaking around March 15 – the day the third reactor exploded.
The new survey comes as a surprise to the public as they were made to believe that the workers assisting in evacuation efforts suffered zero exposure as they were wearing full-body radiation suits and masks.
READ MORE: 1st case of radiation-linked cancer for worker at Japan's Fukushima nuclear plant
The revelations also come following the first case, confirmed a week ago, of cancer connected with radiation poisoning in a former Fukushima employee. The patient, who participated in the recovery and clean-up operation, was diagnosed with leukemia, with radiation exposure determined as the cause of the disease.
A magnitude 9 earthquake triggered a tsunami that struck Fukushima and other parts of Japan's north-east coast on March 11, 2011. The disaster caused a triple meltdown at the nuclear plant, where so far almost 45,000 workers have been involved in a clean-up and decommissioning effort that is expected to cost billions of dollars and take about 40 years.
You can share this story on social media: