1st case of radiation-linked cancer for worker at Japan's Fukushima nuclear plant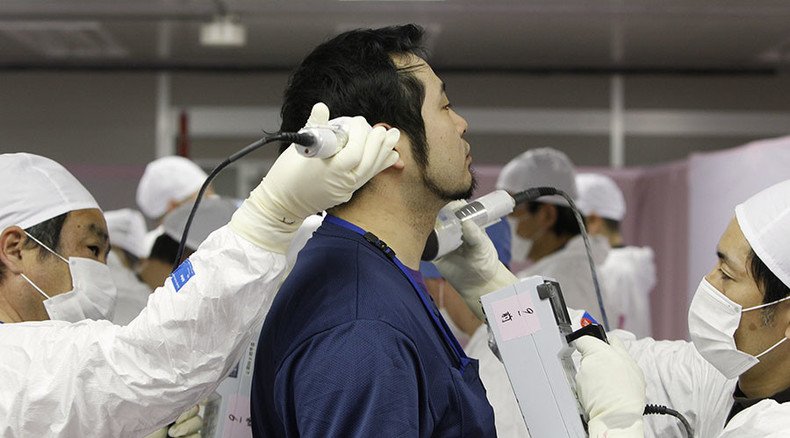 Japan's Labor Ministry has confirmed the first case of cancer connected with radiation poisoning for a former Fukushima employee, national broadcaster NHK reported.
The ex-employee has been diagnosed with leukemia, with radiation exposure determined as the cause of the disease. The former employee participated in the recovery and clean-up operation at the facility after the meltdown following a strong earthquake in March 2011. The worker was in his late 30s at the time of the disaster.
"The case has met the criteria" to connect his disease to the 2011 operation, the official told a Tokyo news briefing, adding that other possible causes have been ruled out.
The man's treatment will be paid for and he has been awarded compensation for loss of income. No exact amount has been disclosed.
READ MORE: 'Japanese govt creates illusion of normality at Fukushima'

Plant operator TEPCO has come under fire over its handling of the meltdown at Fukushima No.1 reactors, and for falling behind schedule on a project to build a huge underground ice barrier around the facility as it attempts to stop groundwater from reaching the reactor building basements.
A total of 850 tons of "decontaminated" water from Fukushima were dumped into the ocean, and 82 waste bags were washed into the sea in September.
A new concern is cybercrime: in June, the Japanese state-run company dealing with temporary storage sites for decontaminated waste from Fukushima fell victim to a computer virus.
Since the meltdown, over 44,000 people have taken part in the decommissioning of the facility, according to the facility's operator TEPCO (Tokyo Power Electric Company).
The 2011 Fukushima disaster is considered to be the world's worst nuclear catastrophe since Chernobyl. A huge earthquake and a resulting tsunami hit the plant in March 2011, causing three nuclear meltdowns and a massive radiation leak.
As of March 2015, about 600,000 tons of contaminated water were contained within tanks at the nuclear site, with the clean-up estimated to take up to 40 years.
LISTEN MORE:
You can share this story on social media: