Meat your maker: Ham, sausages cause cancer, steak also suspect, says long-awaited UN report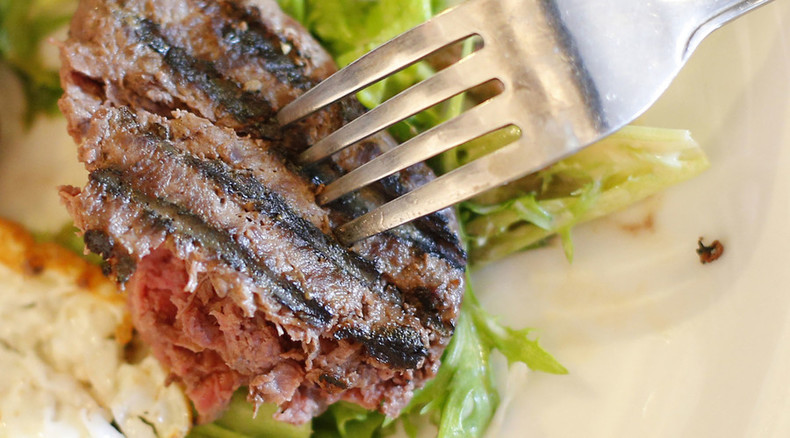 The UN has finally come out with a verdict on meat, with a report indicating that processed meat like sausages, bacon and ham can cause cancer, with red meat also under suspicion.
The Monday report issued by WHO is set to once again heat up the ongoing debate over the health dangers of a carnivorous diet. The document was released with data from the WHO-operated and France-based International Agency for Research on Cancer (IARC).
READ MORE: Pesticides on fruits and vegetables could account for 49 percent loss in sperm
Its research now says there is "sufficient evidence" to include processed meat into group 1, the same as tobacco, asbestos and diesel fumes – all highly carcinogenic.
Experts concluded that each 50 gram portion of processed meat eaten daily increases the risk of colorectal #cancer by 18%

— WHO (@WHO) October 26, 2015
The study connects the foods to bowel cancer, with pancreatic and prostate cancers high in the running.
READ MORE: Pamela Anderson to discuss fish & bees with Russian officials
"For an individual, the risk of developing colorectal (bowel) cancer because of their consumption of processed meat remains small, but this risk increases with the amount of meat consumed," Dr. Kurt Straif, head of IARC's Monographs Program, said in a statement.
Research is ongoing. Red meat like beef, lamb and pork continue to be hotly debated, but have now been classified as "probable" carcinogens, which is classed as 2A, a group that also includes chemicals found in weed killers.
LISTEN MORE:
READ MORE: Bug burger anyone? Insect-based grub could hit Swiss groceries next year
The category below is reserved for suspected carcinogens for which there's "limited evidence."
You can share this story on social media: