Surprise turnaround as Argentinian opposition candidate Macri takes lead, runoff expected
Published time: 25 Oct, 2015 21:32
Edited time: 26 Oct, 2015 04:39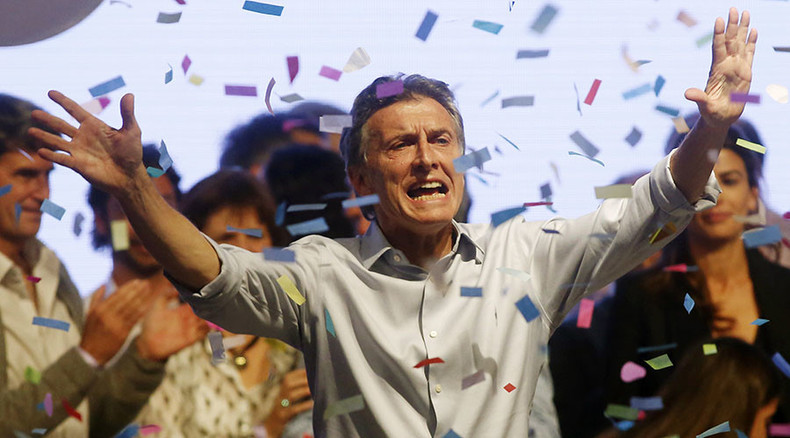 The Argentinian election has taken an unexpected twist, with preliminary results showing Conservative opposition candidate Mauricio Macri suddenly taking the lead from Argentina's Daniel Scioli, who is backed by outgoing president Cristina Fernandez.
With 71 percent of the votes counted, preliminary results show that Macri, a former businessman and current mayor of Buenos Aires, is ahead with 35.7 percent of the vote, and Scioli, a moderate Peronist from the ruling Front for Victory coalition, has 35.2 percent.
"What happened today will change politics in this country," Macri told his supporters on Sunday evening.
This will likely force the two candidates into a second election round to be scheduled for November 22. A candidate must receive 45 percent of the vote, or 40 percent with a 10 percentage point lead over all other rivals, in order to avoid a runoff.
Scioli spoke to thousands of his supporters after the polls closed and took the opportunity to address undecided and independent voters. "I call upon the undecided and independent voters to join this cause," he said. "Changes must lead us forward, not backwards, and they must always include the most needed ones."
Meanwhile, Argentine TV cited Secretary of the National Electoral Chamber Sebastian Schimmel saying: "The country is voting with an absolute calmness."
The campaign chief for Scioli's main rival, Macri, told a news conference that he believes there will be a runoff vote. "We are convinced there will be a runoff," Marcos Pena said.
Argentinians were also picking half of the lower house of parliament and a new upper house, or senate, on Sunday.
The third candidate, Sergio Massa, who used to head Fernandez' cabinet, placed third.
All three candidates have pledged to dismantle the complex system of budget boosters and protectionist measures introduced by Kirchner's government. Scioli has promised to do this while maintaining the social programs instituted by Fernandez, while the other candidates have painted themselves as openly pro-business, and have called for an accelerated pace of reform to stave off a full-scale default.
Scioli is a former world powerboating champion, who lost his right arm in a competition in 1989. His latest campaign promise, announced last week, included tax cuts for workers earning under a certain threshold.
He also promised to lower Argentina's inflation to single digits in less than four years. Currently, inflation stands at 25 percent and the budget deficit amounts to 7 percent of GDP. The economy is projected to grow by less than 1 percent this year and then enter a recession in 2016.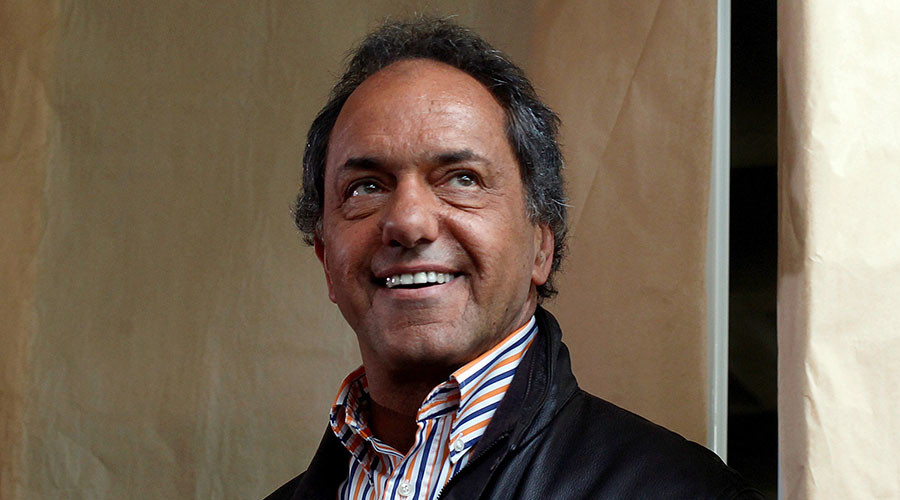 Last year, Argentina defaulted on $20 billion worth of foreign debt obligations, which were remnants of a previous default in 2001. Fernandez responded by saying that the country had no responsibility to pay "vulture funds" that had bought up its bonds on the cheap, prompting a complex legal case with US investors.
Fernandez was elected president in 2007 following her husband Nestor Kirchner's four year term. She has offered a mixture of populist, socialist, and statist policies, bolstered by high commodity prices combined with strident nationalist rhetoric.
Her policies have radically reduced poverty, but the opposition questions the exact extent of the gains.
Fernandez, 62, is leaving office with an approval rating of over 50 percent. Her support comes predominantly from the rural and poorer parts of the population and she has allies in almost all key positions. There have even been rumors in the media that she might try to return for a third term as president in 2019.