'Charges against me are part of US geopolitical game' – jailed Guatemalan ex-president
Published time: 25 Oct, 2015 19:28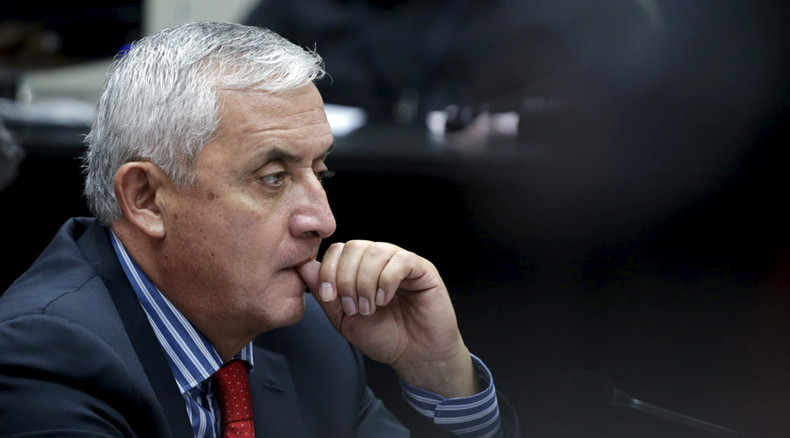 Otto Pérez Molina, Guatemala's ex-president, told RT's Spanish channel that corruption charges brought against him by a UN commission have been masterminded by the US, which is leading an aggressive geopolitical game in the country and the whole region.
Guatemala is holding the final round of its presidential election on Sunday, after the position was vacated by Pérez Molina, who is now awaiting trial in custody.
The polls predict victory for TV comedian Jimmy Morales, who is facing off against former first lady Sandra Torres, a businesswoman and longtime political operative.
Former Brigade General Pérez Molina was president of Guatemala from 2012 to 2015.
He resigned on September 2 after the Guatemalan congress stripped him of immunity due to corruption charges against him. He was taken into custody the next day.
READ MORE: Progress ahead? US, Venezuela begin talks
RT's Spanish channel visited the ex-president in his prison cell at the Matamoros Air Base in Guatemala City to discuss the case and the agenda behind his removal from power.
Washington has had "geo-strategic interests" in neighboring Guatemala since the 1940s and is now meddling in the country through the International Commission against Impunity in Guatemala (CICIG), Pérez Molina told the channel.
The UN body was established in 2006 to investigate and prosecute serious crimes in Guatemala, but eventually "the US became those in charge of it, those who speak and do things and destroy what has been done with the help of this commission," he said.
"And they (CICIG) take up this case… in which....I'm completely innocent. I am here in the detention cell without any justification and substantiated evidence, except for references to third parties, who said: 'Yes, it was the president, who gave the order to open the bank accounts,'" the former president stressed.
The politician said that US Vice-President Joe Biden had come to Guatemala twice while he was in office to request that CICIG be kept in the country.
As for the corruption charges, Pérez Molina pointed out that Guatemala's Internal Revenue Service is an autonomous organization with its own management, and said it was "sheer nonsense" to suggest that the head of state would meddle in its affairs.
"My only concern as president was for them to charge fees in terms with the obligations they took upon themselves to cover the needs of security, education, health care, construction and repairs and others," the 64-year-old said.
When charges were brought against him as part of an investigation into the La Linea case, he resigned from office and opted to stand before the court.
"If I had taken even slightest part in these machinations, then…I wouldn't have been in the country. I had the opportunity to leave under any pretext, but I did not. I will answer before the court, because I am innocent and I don't bare any responsibility for this," Molina said.
Pérez Molina noted that, while he sits behind bars, those who are really responsible for corruption in Guatemala remain free to go on with their illegal practices.
According to the former president, the prosecution in his case "is talking about a little more than $3 million. At the same time, the drain of capital in the country amounts to $2 or $3 billion a year. The largest defaulters remain in the background. And an investigation into them was never conducted. The International Commission against Impunity doesn't say anything about those entrepreneurs."
The CICIG commission said the case against Pérez Molina is based on 89,000 wire-tapped phone calls, revealing a scheme involving $3.8 million in bribes paid out between May 2014 and April 2015.
During that period, the then-president and his vice-president Roxana Baldetti, who has also been jailed, received $800,000 each, according to the UN commission.
Pérez Molina expressed confidence that what happened to him was the result of "manipulations," saying he is "utterly and completely" convinced that the US is behind it.
Shortly before leaving office, the US ambassador to Guatemala used Twitter to urge the population to come out into the streets and protest, the ex-leader said. He believes that the US is looking to in increase its influence in Central America to counter possible Chinese and Russian aspirations to play a bigger role in the region.
"There's now a lot of talk about 'soft coups,' about US interference. And we can talk about it too: in what area the US interests lie and what kind of interference are we looking at in misfortunate small countries, in which – due to its geographical proximity – the US wants to perform such intervention and gain control, pursuing, in my opinion, its geo-strategic interests in the region," Pérez Molina said.
His stance on the war on drugs might have been one of the reasons that prompted Washington to act against him, Pérez Molina believes.
Despite being the main destination for drugs coming out of South America, the US has done nothing to decrease consumption at home. Instead it forces Central
American transit countries like Guatemala to fight the drug traffickers, leading to human casualties and a lack of security, he explained.
"When I became president I suggested that new ways to tackle drug problem should be found, including legalizations, which obviously many in the US didn't like," Pérez Molina said.