Progress ahead? US, Venezuela begin talks – report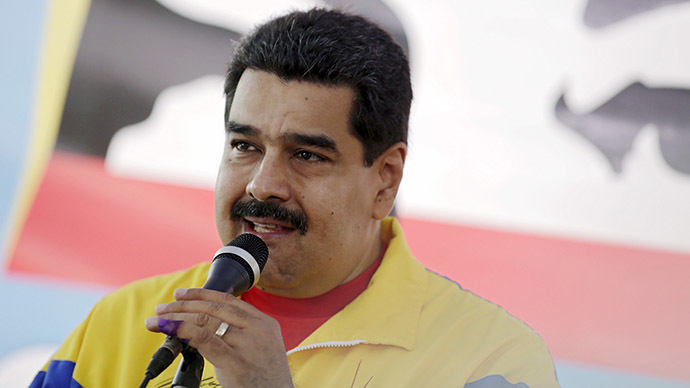 The US and Venezuela have started talks to improve the stiff relations between the two countries, Reuters quoted a senior US official as saying.
The diplomatic dialogue between the two nations is in the early stages and could have been born out of warmer relations between the US and Cuba, according to the official who has direct knowledge of the talks.
The first step was reportedly taken by Venezuela's President Nicolas Maduro back in March. He asked for a "direct channel of communication" with US President Barack Obama and the State Department, according to the official.
"[Maduro] realized that if we can talk to the Cubans, we can talk to him," the official told Reuters. "We approached it very carefully because we had seen this before, but there was also US concern that the relationship was reaching such a dangerous point that it risked breaking completely."
Venezuela has not commented on the reports of the dialogue with the US.
READ MORE: 'I respect you, but I don't trust you' – Maduro to Obama
The goal of the talks is to figure out areas for cooperation, such as the Haiti elections and peace talks in Colombia, the official said.
Venezuelan parliamentary chief Diosdado Cabello is participating in the talks. "The two most apparent power centers in the Venezuelan government are Maduro and Cabello … We knew we had to connect Cabello and Maduro in some way."
The dialogue was made official only in April, when Maduro met with Obama at the Summit of the Americas, according to the official.
In terms of progress – it is too soon to tell. "We're not getting back there anytime soon," the official said, referring to the appointment of ambassadors.
READ MORE: Maduro: US trying to 'defeat' Venezuela govt with sanctions, we'll fight back

Relations between the US and Venezuela have been very tense, reaching a critical point in March after Obama signed and issued an executive order imposing sanctions against Venezuelan officials who allegedly participated in human rights abuses. He also declared the country a threat to US national security.
In response, Maduro accused the US of trying to "defeat" and "intervene in" his government.
Since then, Venezuela has introduced a new mandatory visa requirement for all Americans visiting the country. Maduro also asked his government to review and reduce the number of US diplomatic staff in the country, following allegations of "conspiratorial meetings" against Venezuela.
Things have been getting worse between Washington and Caracas since Venezuela's iconic former leader, Hugo Chavez, came to power in 2000. The two have not had full diplomatic representation since 2008.