Iranian sanctions to be lifted in late 2015, centrifuge scrapping yet to start - nuclear negotiator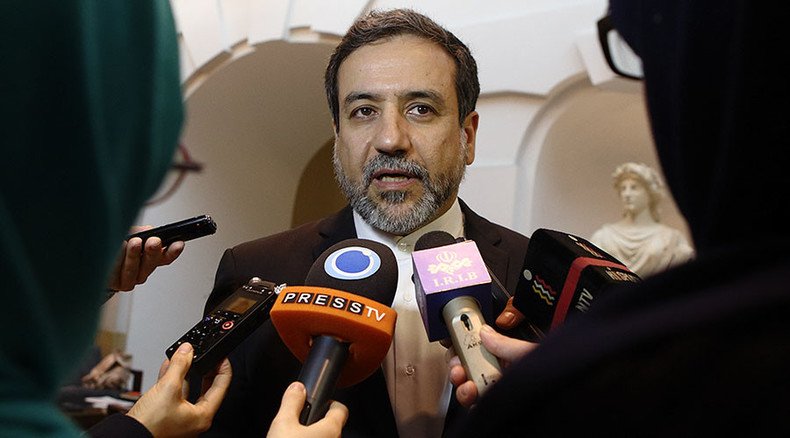 EU sanctions against Iran, which Western powers and their allies have long suspected of striving to produce nuclear weapons, are to be lifted as soon as Iran has "done its part" which includes dismantling centrifuges and shutting down nuclear facilities.
Iran's Deputy Foreign Minister and senior nuclear negotiator Abbas Araqchi is certain the final agreement with major world powers to be signed after Iran meets all necessary conditions which include dismantling centrifuges and shutting down nuclear facilities in exchange for sanctions relief.
The deal is expected to come into effect by the end of 2015.
READ MORE: Iran Parliament passes bill approving nuclear deal
"Hopefully before the end of this year, certainly we would have the implementation day," told reporters after the P5+1 group meeting in Vienna on Monday, Reuters reports.
Araqchi also stressed that the mothballing process is yet to start.
"We need an order by the president to the Iranian Atomic Energy Organization to start the job. That would be done after some preparations that we still need to do in the coming days. So it would soon start," Araqchi said.
United States and the European Union marked the beginning of the process yesterday by taking formal legal steps that are likely to end Iran's isolation.
"The ending of the sanctions will follow once we have done our part. We hope that will happen within one or two months," Araqchi was quoted yesterday as saying in the IRNA report.
"The EU will actually end all economic sanctions and the US will annul all sanctions related to the presidential jurisdiction, and will suspend Congress-approved sanctions," Araqchi told Iran's state IRIB TV on Sunday.
However, Germany's foreign minister Frank-Walter Steinmeier said that sanctions would not be lifted until January.
READ MORE: UN nuclear watchdog chief visits Parchin military facility in Iran
In July, Tehran said it was ready to reduce its low-enriched uranium reserve to 300 kg of 3.67-percent fissile purification for 15 years. Uranium suitable for producing weapons must be enriched to around 90 percent.
Iran currently possesses around 7,845.4 kg of low-enriched uranium, according to the UN's nuclear watchdog,
Excess low enriched uranium stock could be subsequently diluted or sold abroad in exchange for natural uranium.
"We are on schedule and we think we can do this business instead of diluting. We can do the business and receive natural uranium in return for selling our enriched uranium to outside," Araqchi said.
You can share this story on social media: