Iran Parliament passes bill approving nuclear deal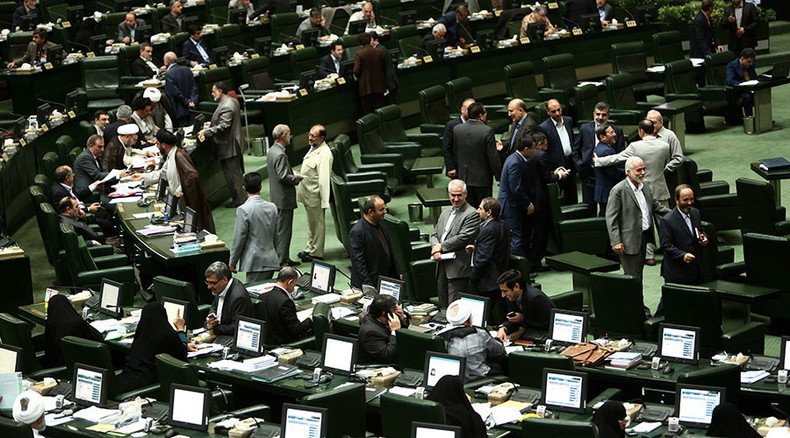 The Iranian parliament has voted in favor of the nuclear deal with world powers, yet preconditioned that international inspectors will only have limited access to Tehran's military facilities, reports IRNA news agency.
"The bill to implement the JCPOA ... was passed in a public session on Tuesday with 161 votes in favor," Reuters cited IRNA as saying, which referred to the Joint Comprehensive Plan of Action reached in July.
The parliament has also agreed on counter-measures in case the deal is not approved by other parties.
Now that the deal has been approved by the Majlis, the lower house, it needs endorsement by the Guardian Council of the Constitution consisting of clerics. Once the council approves the bill, it will come into law.
Once in force, the bill on the 6+1 nuclear agreement will enable Iranian government to implement the deal.
The agreement has a strong opposition from the Republican Party in the US, which attempted to prevent the deal from being approved by the Senate, but the Obama administration has so far been effective in finding right arguments to expect the deal get be agreed upon.
READ MORE: Senate fails to sink Iran nuclear deal by tying it to Israel
An Israeli lobby in the US has been fiercely opposing the nuclear agreement with Iran and put much effort to disrupt it.
The Israeli government has been vocally opposed to the deal, with the American-Israel Public Affairs Committee (AIPAC) spending up to $40 million on a public relations campaign criticizing the agreement, according to National Public Radio.
READ MORE: UN nuclear watchdog chief visits Parchin military facility in Iran
The historic agreement between Iran and six world powers was reached on July 14, putting an end to years of complex negotiations regarding the fate of the Iranian nuclear program. The deal is contingent on the adoption of a set of measures, the completion of which will lift all sanctions imposed on Tehran by the UN Security Council, the US and the EU.
You can share this story on social media: