Israel, US resume military aid boost talks as Iran deal takes effect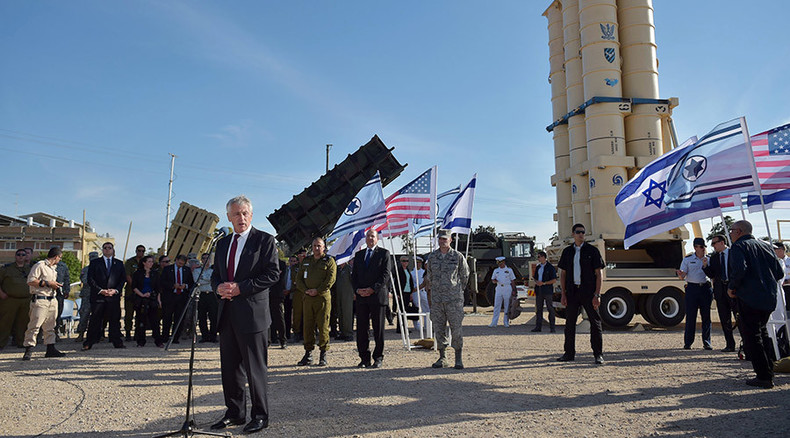 Talks have resumed between Israel and the US over a proposed increase of America's $3 billion per year military aid to the Jewish state. Israel had frozen the deal in protest against the nuclear deal with Iran, which is now in effect.
The current 10-year American military aid package is due to expire in 2017, and the two allies have been in negotiations about a new one, which could increase the sum by $600 million to $700 million annually. This would bring the total aid received by Israel to between $3.6 billion and $3.7 billion per year.
Israeli Prime Minister Benjamin Netanyahu had suspended these talks in protest against Washington working on a nuclear deal in Iran, which Tehran and six world leading powers signed in July.
READ MORE: Iran Parliament passes bill approving nuclear deal
After Israeli efforts to derail the deal failed, the negotiations are resuming.
"With the nuclear deal now moving ahead, Israel is also moving ahead, hoping to forge a common policy with the United States to address the continuing dangers posed by Iran," the Israeli Ambassador to the US Ron Dermer said in a speech at the National Israeli American Conference in Washington DC.
"Discussions over a new Memorandum of Understanding between Israel and the United States, which had been on hold for some time, resumed this past week in Washington," he said, using another term for the defense-aid agreement.
It comes as America's top military officer, Marine General Joseph Dunford, has arrived in Israel on Saturday for his first visit to a foreign country since becoming the chair of the US Joint Chiefs of Staff on October 1. He is to meet Israeli Defense Forces commander Gadi Eisenkot and discuss a range of issues, including the Iranian deal, Russia's campaign in Syria and the aid package.
Israeli Defense Minister Moshe Yaalon, visiting Washington later this month, is to pursue these talks, as will Netanyahu when he meets US President Barack Obama in the White House on November 9, Dermer mentioned.
Israel has been relying on direct American aid since its creation in 1948 and is the largest beneficiary of US financial assistance since World War II, a June US Congress report said. The Jewish state has received more than $124 billion from the US in current dollars in bilateral assistance, most of it for military purposes.
Iran nuclear treaty adopted, but implementation remains 'months away'
Three months after the nuclear deal was agreed with Iran, Barack Obama has signed the treaty into force, requiring "the United States and other participating countries to make the necessary arrangements and preparations for implementation."
"This is an important day for all of us and a critical first step in the process of ensuring that Iran's nuclear program will be exclusively for peaceful purposes," said a statement from Secretary of State John Kerry.
But while companies and institutions that were under sanctions will soon receive waivers, these will only become valid once the IAEA certifies that Iran is complying with the terms of the agreement.
Tehran has said it believes Implementation will come in weeks, but the US speculates it will take longer.
"Those waivers will be out and issued so people will know what will be getting waived but it won't actually take effect until Iran completes its steps," a senior US official told reporters. "For us it's important that it's done right, not that it's done quickly. We cannot imagine less than two months."
Later on Sunday, the EU also formally validated July's agreement.
You can share this story on social media: