'Hit the wrong target': Saudi air raid kills at least 30 Yemeni pro-govt fighters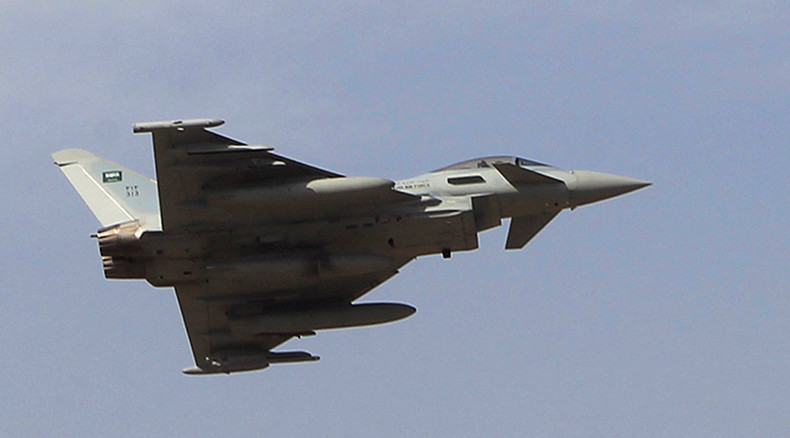 Saudi-led air force bombing has "mistakenly" led to the deaths of at least 30 Yemeni pro-government fighters loyal to ousted president Abd Rabbuh Mansur Hadi, local officials said, adding that the coalition reportedly "hit the wrong target."
The strike on the military camp in Yemen's Waziya, located between the southeastern provinces of Taiz and Lahj, left at least another 40 wounded. One official from the Hadi administration told Reuters that "the coalition raid hit the wrong target."
READ MORE: Saudi-led coalition suffers deadliest day in Yemen, UAE & Bahrain lose 50 troops
Medical sources and witnesses on the ground also confirmed to AFP and AP that the strike on the camp resulted in numerous casualties, placing the number of fatalities at between 20 and 30 soldiers.
However, a commander of Hadi-loyal forces in the area, Abedrabbo al-Mehwali, told AFP that only "eight fighters were killed and 25 wounded."
"They thought the Houthis were still there," another pro-government security official told AP.
READ MORE: 2,300+ civilians killed in 6 months: Worst coalition attacks in Yemen
The strike targeted a mountainous region close to the city of Taiz where fighting has been ongoing between local combatants and forces loyal to former President Ali Abdullah Saleh (in power 1990-2012) who has openly allied himself with Houthi rebels.
In addition to striking the pro government encampment, the Saudi-led airstrikes also reportedly destroyed a house in the al-Wazeyah district of Taiz province, killing a family of ten, the official Yemeni state news agency (SABA) reported.
READ MORE: Over 500 Yemeni children killed during 6 months of Saudi airstrikes – UNICEF
Further strikes in Taiz killed another eight civilians on Saturday, when the jets targeted the Central Bank of Yemen, Hayel Residential Compound and a medical compound in the city. Dozens of civilians were injured SABA reported.
A Saudi-led air offensive in Yemen which started at the end of March continues to destroy targets on the ground. At least 2,355 civilians have been killed the last six months since the coalition began its military operations in Yemen, the UN said in September.
LISTEN MORE: