2,300+ civilians killed in 6 months: Worst coalition attacks in Yemen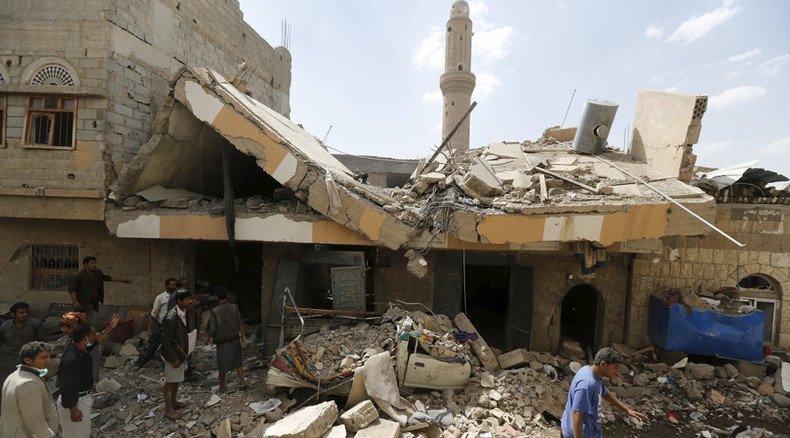 At least 2,355 civilians have been killed the last six months since the Saudi-led coalition began military operations in Yemen, UN said on Tuesday. RT now looks into the deadliest attacks between March and September this year.
DATE: March, 30
LOCATION: Mazraq refugee camp, Hajjah province
DEATH TOLL: 45
At least 45 people were killed and another 65 injured in an airstrike by Saudi-led forces at a Mazraq refugee camp in Houthi-controlled northern Yemen, the International Organization for Migration (IMO) said.
DATE: June, 7
LOCATION: Sanaa, Yemeni capital
DEATH TOLL: 44
At least 44 people were killed in airstrikes by the Saudi-led military coalition in Yemen's capital, Sanaa, according to the Houthi-run news agency Saba.
"More than 44 citizens were martyred and 100 others including women and children, according to preliminary figures," the agency reported. Health Ministry official said there were at least 180 people wounded.
DATE: July, 5
LOCATION: Hajjah province
DEATH TOLL: 45
As many as 30 civilians were killed in Saudi-led airstrikes that hit Aahem market in Hajjah province in northern Yemen, the Houthi-run news agency Saba reported.
"The Saudi enemy targeted citizens while they were doing their shopping at Aahem market," Saba quoted a security source as saying.


DATE: July, 25
LOCATION: Mokha, Taiz province
DEATH TOLL: 120
Saudi-led coalition airstrikes killed over 120 civilians and left 150 injured after a fierce attack in the in the port city of Mokha, Taiz province. Local sources told AP that most of the corpses found there, including children, women and elderly people, had been completely immolated in the flames.
DATE: August, 21
LOCATION: Taiz
DEATH TOLL: More than 65
More than 65 civilians in Taiz province were killed in Saudi-led airstrikes, including 17 people from one family, the international medical humanitarian organization Doctors Without Borders said.
"The deaths occurred when the strikes hit civilians and homes in the area," the group said, adding that among the dead were 17 children and 20 women.
DATE: September, 28
LOCATION: al-Wahijah village, Taiz province
DEATH TOLL: 131
At least 131 people, mostly women and children, were killed in an air strike on a wedding party in the village of al-Wahijah in Taiz province, southwest Yemen, medics said. Two missiles reportedly tore through two tents into the village during the incident.
Locals accuse the Saudi-led coalition of carrying out the deadly attack. However, the coalition spokesman strongly denied any role in the deadly airstrike, saying that "there have been no air operations by the coalition in that area for three days."


LISTEN MORE:
You can share this story on social media: