'We won't be freed until he is': Mayor arrest leads to kidnapping of 'almost 300 Tunisians' in Libya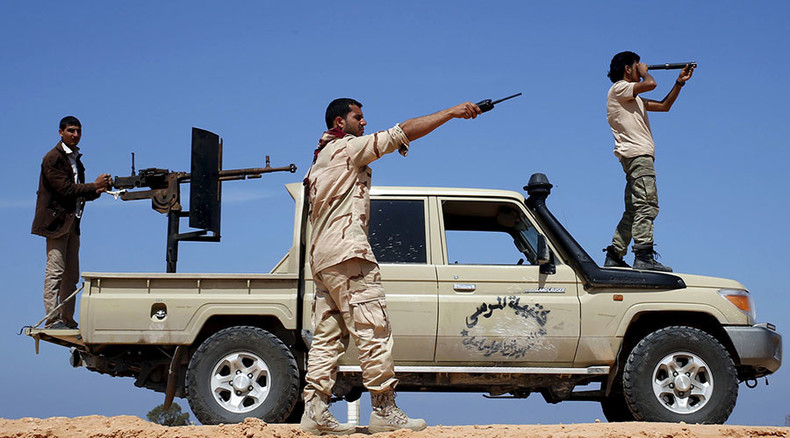 Gunmen in the northwestern Libyan city of Sabratha kidnapped dozens of Tunisian workers Monday night in retaliation for the arrest of a Libyan official in Tunisia. Local news reports claimed that up to 300 Tunisians were taken hostage by an armed group. All were later released.
Four years after Colonel Muammar Gaddafi's fall from power two rival governments and their armed supporters are still fighting for control, often going to extremes.
Earlier this week gunmen had kidnapped the Tunisians to demand the release of the Libyan official, who had been arrested on Saturday along with another Libyan at Tunis airport while on a visit organized by the United Nations, Reuters reported. The Tunisian news website Webdo said that the high-ranking official was the mayor of Sabratha.
"They have told us that their mayor has been arrested in Tunisia, and we won't be freed until he is freed. If he is detained for a year, we will be held for a year. If it is just one more day for him, then it will be one more day for us," one of the hostages, Sadok Bennani, told Webdo.
READ MORE: 'Probability of US again bombing Libya is always there'
Bennani said he was on the bus, along with some 300 Tunisians heading to work in the Libyan city of Zawiya. When their vehicle came to the militia roadblock, all the Tunisians were told to get off.

"But Libyans who were with us remained unconcerned" about the fate of their fellow workers, Bennani noted.

The Tunisian Foreign Ministry said in a statement that the release of the Tunisians had come after "high contacts with the authorities in Libya."
READ MORE: Libya could become new Somalia – Italian foreign minister
Tunisians, as well as other foreign nationals, have been kidnapped in the past to pressure their governments to release Libyans held overseas.

In mid-June an armed group stormed the Tunisian consulate in Tripoli and kidnapped 10 staff. Tunisia called the assault a "blatant attack on Tunisian national sovereignty and a flagrant violation of international laws." Following the kidnapping of the consular staff, it has withdrawn its diplomatic staff from Libya.