I know what you drank last summer: Smart cup and other latest wearable techs from the HK fair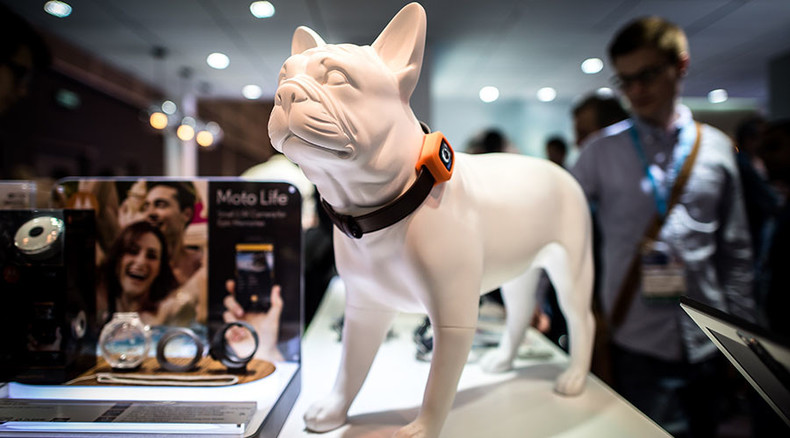 This year's Hong Kong Electronics Fair has proven that health and lifestyle are at the forefront of what's selling in technology. A collar with a camera, a calorie counting cup, and a gadget that allows your plants to send texts were just some of the weird and wonderful things on show.
The bi-annual event gives tech firms the perfect opportunity to present their latest creations to the tens of thousands of customers who turn up. It stands out from similar events as it focuses on items that are ready for consumer sales, leaving just a small platform for prototype ideas.
This year it's all about wearable technology and enhanced living. Another underlying trend is app-enabled products.
"Technology development does seem to be enhancing living standards and the efficiency of daily life," says Benjamin Chau, Deputy Executive Director of the Hong Kong Trade Development Council (HKTDC).
So here's a look at some of the highlights:
Nixplay Seed
A simply designed Wi-Fi photo frame allowing users to share photos from anywhere around the world using an App. It even saves energy, switching to sleep mode if it doesn't sense motion in the room. The company has just confirmed a deal with Amazon.
Motorola Scout5000
Keeping an eye on your pet will now be easier with a 4K Wi-Fi camera built into its collar. It also offers users two-way audio and a GPS tracking device. Fido won't get far anymore.
Humans are also able to get their fair share of wearable tech to monitor their workouts.
The Golf Master WG102+ is a watch designed especially for golfers, which measures their heart rate, distance travelled, number of steps, calorie info per round as well as keeping score.
InnoBand-D & Freebee Reflex
Freebee Reflex is a swimming device that keeps a record of all lap speeds, lap records, the number of strokes, distance, time and calories without any setting.
And innoBand-D is a multi-functional wristband with an LED display that tracks time, steps, distance, calories and sleep quality.
READ MORE 'Hoverboards' illegal on public roads, sidewalks – CPS
Bluetooth PlantCare
This allows your pot plant to send you texts when it needs care. The user provides information about the plant via a smartphone and connects it to a soil moisture sensor inside the pot. The sensor can assess pH levels and soil humidity, setting off an alarm when the plant is too dry or too wet. The company is working on a new feature which will monitor the amount of sunlight received.
Aumeo Audio
The device measures the user's unique hearing and tailors the sound to the user's ears. It works in any equipment that is able to connect with a 3,5mm jack cable.
WISA cup
A smart cup that allows the user to calculate the calories in drinks consumed. The cup turns on when the user picks it up and immediately starts recording.
Gadgets are becoming more user-friendly not only when it comes to their interface, but also their size. Smaller, more compact objects are still popular like the UO Smart Beam Laser Projector, a tiny battery operated high quality projector that fits in the palm of your hand.
READ MORE Dream team: Russia's GLONASS & China's BeiDou to make satnav system parts together