PEGIDA protesters lash out at 'dangerous' Merkel amid Antifa clashes with police (VIDEOS)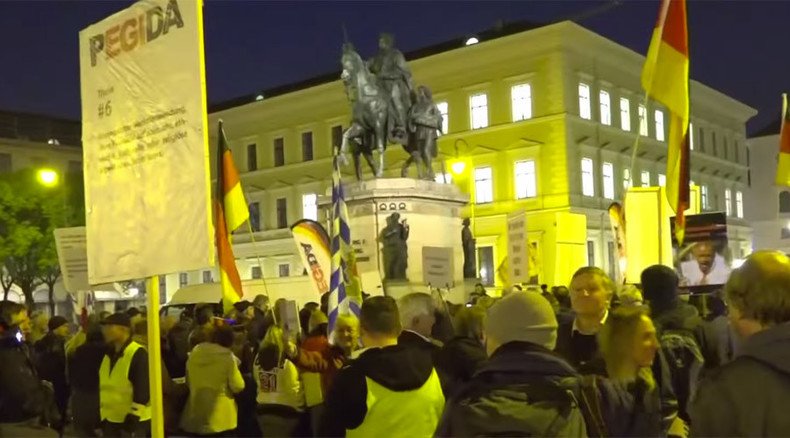 Thousands of PEGIDA (Patriotic Europeans against Western Islamization) members have marched through Munich and Dresden to take a swipe at the wave of refugees coming to Germany. They demanded Chancellor Angela Merkel resign, expressing fury over the influx.
The group's leader, Tatjana Festerling, called the chancellor "the most dangerous woman in Europe." According to one speaker at the rally, Merkel's policy of giving refugees the go-ahead was gradually turning the country into a "jungle camp."
While authorities declined to give an official number, reporters at the scene estimated that up to 9,000 people took part in the rally in Dresden, where PEGIDA was founded.
The refugee crisis has driven a wedge between those who support asylum seekers and those strongly against them. Tensions ran high as Antifa protesters scuffled with police in the Bavarian city of Wurzburg on Monday, as some 200 PEGIDA protesters marched through the town.

Around 3,000 PEGIDA members also marched through Munich, in striking contrast to a small group of people who took part in a counter demonstration.

Germany has seen a spike in hate crimes against refugees following the latest immigration crisis, with a lot of far-right anger directed at Chancellor Angela Merkel's decision to suspend the Dublin Regulation, which stipulates that migrants can only claim asylum at a German port of entry.

Merkel has basically permitted officers to process applications of asylum seekers even if they had traveled through other EU countries first.
READ MORE: Police charge & knock out bystander amid right-left clashes in Germany (VIDEO)

Over 410,000 people have registered on Germany's initial registration system since January, and over 100,000 asylum seekers were accepted in August alone. The country (home to 80 million) has accepted more asylum applications than any other European nation. It expects to take up to 1.5 million asylum seekers from war-torn countries such as Iraq, Syria and Afghanistan in 2015 – four times the amount in 2014.
LISTEN MORE:

You can share this story on social media: