Al-Qaeda's Syria branch urges more attacks on President Assad's Alawite positions - report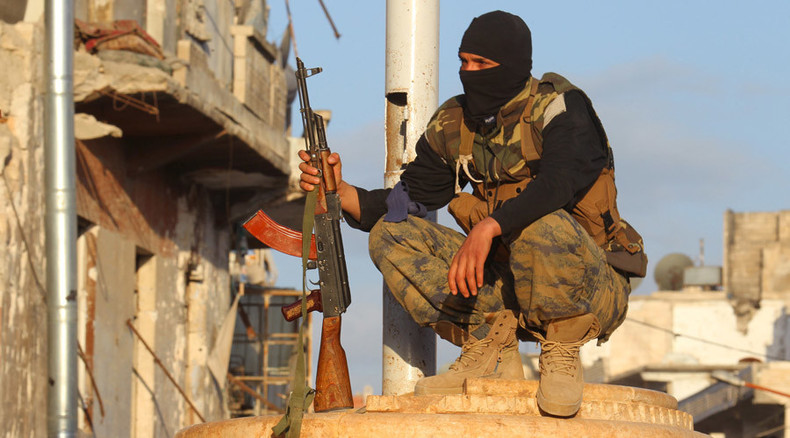 As Syrian forces aided by Russian air power continue to advance on terrorist fighters across Syria, the Al-Nusra Front has called on insurgents to "escalate the battle" and hit strongholds of the Alawite sect to which President Bashar Assad belongs.
In an audio message, the head of the Al-Qaeda-linked Al-Nusra Front, Abu Mohamad al-Golani, urged "all fractions" to attack the Alawites, the Shi'ite group of Syrian President Bashar Assad in retaliation for the Syrian army's successes in battling the Muslim Sunni insurgents.
"There is no choice but to escalate the battleand to target Alawite towns and villages in Latakia and I call on all factions to ... daily hit their villages with hundreds of missiles as they do to Sunni cities and villages," Golani said in a message posted on Youtube, according to Reuters.
"The new Russian invasion is the last dart in the weaponry of the enemies of Muslims and the enemies of Syria," said Golani.
Al-Nusra, which swore allegiance to Al-Qaeda two years ago, is one of the most active and powerful forces, fighting the Syrian government. Prior to Russian air involvement in Syria on September 30, the group seized several strategic towns in the northwestern province of Idlib, in addition to a number of other spots across the war-torn country.
READ MORE: Combat report: Russian jets strike 53 ISIS targets in last 24 hours (VIDEOS)
While the Russian Air Force carried out 55 sorties in four Syrian provinces, destroying extremists' command posts and terrorist training camps, the Syrian armed forces conducted wide-scale military operations against terrorist organizations across the country.
As the army targeted mainly Islamic State elements and infrastructure, the Syrian Arab News Agency (SANA), reported that Al-Nusra targets were hit on a number of occasions.
RT EXCLUSIVE: Report from the frontline where Syrian troops are fighting ISIS
In the village of Al-Mastumah in Syria's northern Idlib province, the army killed at least 31 fighters while destroyed one of the "dens" used by the group. An airstrike on a terrorist target destroyed an Islamic State installation used as a transfer point for militants coming to Syria from other countries.
In the meantime, the General Command of the Syrian forces announced that the army established control over the Free Zone in Aleppo and 13 towns and villages and an area spanning Hama and Lattakia provinces.
READ MORE: Syrian army advances under Russian air cover, sparks fiercest clashes ever
On Monday US forces, who are conducting their own campaign in Syria, reportedly airdropped small arms, ammunition and other supplies to the same Syrian moderate rebel groups that US and its allies have been arming for years, according to a Reuters military source.
Last month the US admitted, that Syrian "moderate" rebels gave some of their equipment to the Al-Nusra Front which cooperates with Islamist and jihadist rebel groups, and sometimes Free Syrian Army-aligned groups, against Syrian government forces.
The United States formally designated the Al-Nusra Front as a foreign terrorist organization in December 2012. Russia followed suit two years later, recognizing the jihadist group as terrorists.
Since Russia started its anti-terror operation Syria, Moscow has been accused of "conniving with and propping up" the Assad regime.
The White House called the Russian airstrikes "indiscriminate military operations against the Syrian opposition," adding that the campaign will prolong Syria's conflict. Moscow has been offering to resume talks with Washington to avert any misunderstandings concerning its airstrike operations, as well to discuss ways to avoid conflicts between US and Russian warplanes over Syria.
READ MORE: Putin: Russia has no intention of mounting Syria ground operation, wants to see political compromise
Russia has been stressing repeatedly that it operation is aimed "stabilizing the legitimate authority in this country and creating conditions to look for political compromise."
Speaking to Russia media, President Vladimir Putin ruled out any possibility of Moscow sending troops to fight on the ground in Syria.
"Whatever happens, we're not going to do this [ground operation] and our Syrian friends are well aware of it," President Vladimir Putin said in an interview with Russian TV anchor Vladimir Solovyov on Sunday.
LISTEN MORE: