Can't keep 2¢ to self? US claims it's 'wrong time' for long-awaited Russia-Japan peace treaty talks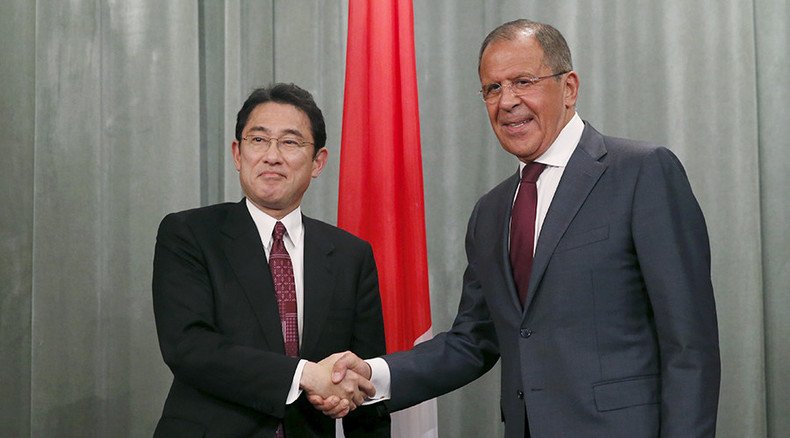 It's not the time for business as usual with Russia because of Ukraine and Syria, US State Department spokesman John Kirby claimed, commenting on recent talks on a World War II peace treaty between Moscow and Tokyo.
"Again, we still maintain that, broadly speaking, it's not time for business as usual with Russia on Ukraine," Kirby said when addressed the issue during a daily briefing by the State Department on Thursday.

The fact that Russian airstrikes against Islamic State (IS, formerly ISIS/ISIL) are now making headlines "doesn't mean we've turned a blind eye to Ukraine and to what Russia continues to do there," he stressed.
However, the spokesman acknowledged that "there seems to be some efforts in the right direction here on Minsk [peace treaty] by both sides, and we want to encourage that."

The verbal intervention comes despite the fighting has practically stopped in eastern Ukraine in recent weeks, following more than a year of a bloody conflict between Kiev forces and rebels demanding self-governance, in which nearly 8,000 people died.
READ MORE: Tanks withdrawing from contact line in Lugansk People's Republic
Kirby refused to get into the specifics of the Russia-Japanese talks, calling them "sovereign discussions" and advising journalist to address Tokyo for further details.

Earlier on Thursday, the Russian Foreign Ministry said that Moscow and Tokyo have agreed to continue contacts on the issue of the peace treaty, which the two countries never signed after the end of World War II.
Japanese Foreign Minister Fumio Kishida visited Moscow in September to discuss bilateral relations.
READ MORE: Tokyo wants 'new level' in relations with Moscow – PM Abe

The southern Kuril Islands remain the main obstacle to signing the peace treaty, as Japan doesn't agree with the decision taken by Soviet, US and UK leaders to hand all of the Kuril Islands over to the USSR after World War II.

Tokyo claims the islands of Iturup, Kunashir, Shikotan and Habomai, calling them Japan's "Northern Territories."
READ MORE: Moscow officials 'have always and will continue to' visit Russian Kuril Islands - PM
You can share this story on social media: