'Dead families huddled together': Guatemala uncovers mudslide victims as death toll surges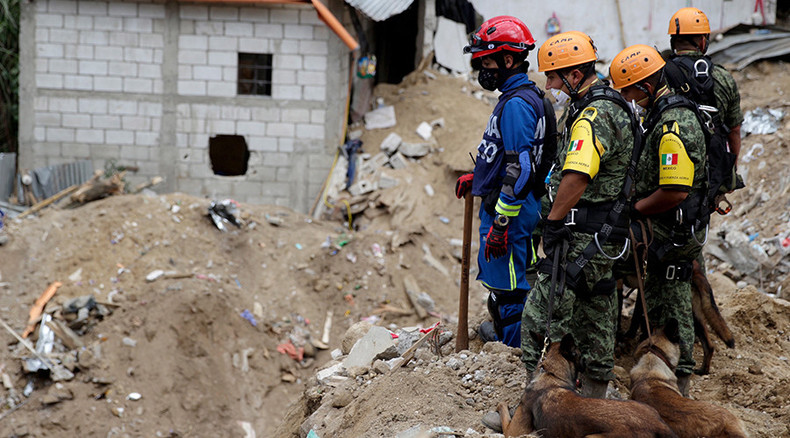 Five days after 120,000 tons of mud and rocks buried a small Guatemalan town, the death toll has reached 152 people as search and rescue operations continue. Search teams have uncovered entire dead families as hope of finding survivors dwindles.
"We found almost all of them huddled together, which means that they were going to try and evacuate but sadly they didn't have time," Sergio Cabanas, an official at Guatemala's disaster agency Conred told Reuters.
"Some died from the impact, some from asphyxiation and some ... from heart attacks," he added.
As of Monday evening, emergency services chief Alejandro Maldonado confirmed that at least 300 people were still unaccounted for.
"Our determination to continue is firm. We're not going to stop until we finish the job. The objective is that nobody is left buried at the site," Maldonado told reporters.

However, hope of finding survivors under the mud dims with each passing day.
Search and rescue efforts were hampered by two smaller landslides about 15 kilometers (10 miles) east of Guatemala City, the country's capital, on Monday.

A wall of about four meters (13 feet) collapsed around rescue workers inspecting the area, AFP reported.
The local Red Cross has appealed on Twitter for dry ice as morgues in the town are expecting more bodies to be delivered.

A massive landslide tore through the village of El Cambray II in the municipality of Santa Catarina Pinula on Thursday night following heavy rains, destroying or damaging 125 homes.
Just last year, municipal authorities had urged the community to relocate families living in dangerous areas several times. However, many residents refused to leave, saying they had nowhere to go.