Base with T-55 tanks among 9 ISIS facilities Russia hit in last 24 hours - Defense Ministry (VIDEO)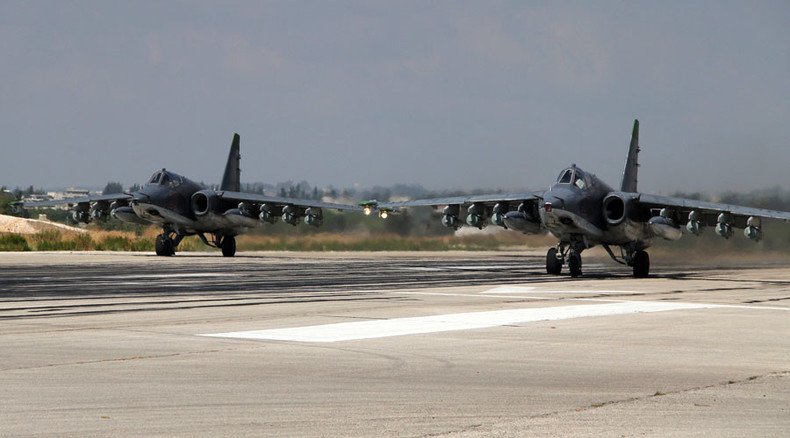 The Russian Air Force in Syria has conducted 25 sorties on 9 Islamic State installations in the last 24 hours, eliminating a disguised terrorist base equipped with tanks, a command center and a communication hub, the Defense Ministry reported.
Russian bombers taking off from Khmeimim airbase knocked out a terrorist base hidden in the woods near the city of Idlib, eliminating 30 vehicles, among which were several Soviet-made T-55 tanks.
"Six airstrikes hit the base, and the terrorists' equipment was fully destroyed," Konashenkov said.
An IS command post in Latakia province was completely destroyed with a pinpoint strike from a Russian bomber, with fire breaking out at the site.
In Homs province three airstrikes on terrorist infrastructures took out two arms depots. An Islamic State command post near the city of Al-Rastan was also destroyed.
"As a result of a direct hit, a communications center has been eliminated. Reconnaissance confirms the facility is no longer functional," Russia's Defense Ministry spokesman Igor Konashenkov said.
"Last night, aerial reconnaissance conducted by Sukhoi Su-24M bombers hit a terrorist artillery rocket-launching position near the city of Jisr al-Shughur. An accurate airstrike resulted in the detonation of munitions and vehicles," he added. Also, Russian UAVs spotted an artillery position in Idlib province.
"An airstrike conducted by Sukhoi Su-25 ground-support fighters destroyed three artillery pieces and a field munitions depot."
All airstrikes performed by the Russian Air Force aim "to disorganize control systems and deteriorate logistic support systems of the terrorists," he reported.
Altogether nine installations used by terrorists have been destroyed by Russian airstrikes in the last 24 hours.
LISTEN MORE:
You can share this story on social media: